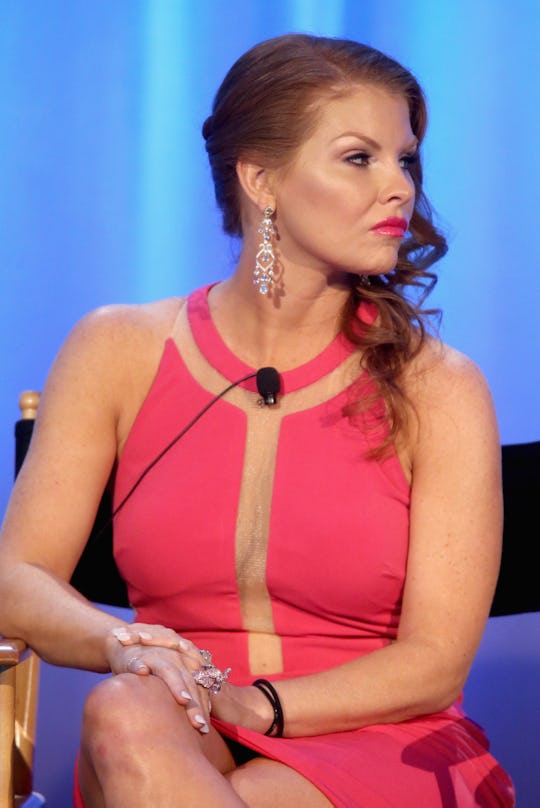 Frederick M. Brown/Getty Images Entertainment/Getty Images
Will Brandi & Bryan Redmond Be On 'Real Housewives Of Dallas' Season 2? It's Uncertain
The tensions between Brandi Redmond and her husband Bryan have been increasing weekly on The Real Housewives of Dallas, and it's been pretty tough to watch. Bryan is clearly a lot less comfortable on camera than Brandi, especially when it comes to discussing personal issues relating to their marriage, and it might make fans wonder what that means for their future on the show. Will Brandi and Bryan Redmond be on Season 2 of RHOD?
When Brandi was asked on Twitter if she was returning to the show, she replied that she had not yet signed up and wasn't sure it was "in store" for her. That makes it pretty clear that her involvement in Season 2 isn't definite, but it might not mean what it seems to at first glance. RHOD has not yet been renewed for another season by Bravo, and Brandi could be saying that she doesn't know if the show is coming back at all yet, let alone if she'll be on it.
Then again, her words could be taken at face value. Considering the obvious strain the show seems to be putting on her marriage, it would be understandable if she took a step back. As for Bryan's involvement in any upcoming seasons – who knows. He keeps quiet on the social media front.
Brandi has already made an impression in her time on the show. In addition to her ongoing attempts to bond with her husband, Brandi has gotten herself into a feud with LeeAnne Locken and had regular zany adventures with bestie Stephanie Hollman – the kind of things that could cement a woman's place amongst the Housewives if she so chose. I mean, who's forgetting that poop hat any time soon?
Of course, it's not all Jesus juice and dance breaks for Brandi on RHOD. This season has also seen her reconnect with the grandfather she never knew, which ended up being another problem between her and Bryan when he didn't take it seriously enough. In "Locken Loaded" they had a dinner where Brandi tried to address her concerns, but Bryan didn't want to hear it, eventually just getting up and walking out on her. Brandi defended Bryan in a blog post for Bravo, but the onscreen damage was already done.
Whether Bryan and Brandi can mend their issues – and whether they need to be off camera to do it – remains to be seen. Even though RHOD is a fledgling entry in the Housewives franchise, Brandi would be missed if she left it.