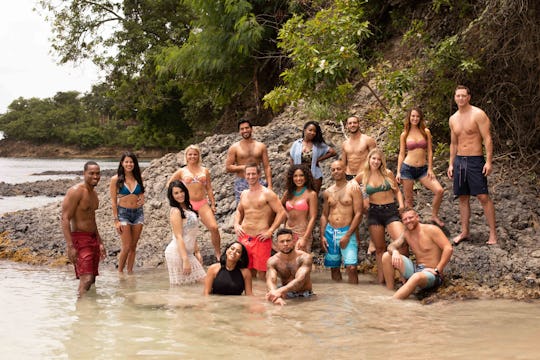 Rose Marie Cromwell/Lifetime
Tensions Run High In This 'Married At First Sight: Honeymoon Island' Exclusive
When Married at First Sight: Honeymoon Island premieres on Oct. 23 on Lifetime, it will match up 16 singles to see if they can find love with each other in a tropical setting. At the end of its eight episodes, the couples will have to decide if they want to get hitched (not quite at first sight, but almost). This exclusive clip from the first episode hints at a connection between Brandin Brosh and Jona Bienko, but will Brandin and Jona get together on Married at First Sight: Honeymoon Island? It seems like their bond is tested very early on.
Jona Bienko is a 35-year-old auto broker from Como, CO who was almost on Season 4 of Married at First Sight, though he ultimately went unmatched. Brandin Brosh is a 28-year-old boutique owner from the alliterative Biloxi who may be a little sensitive to the partner-swapping of Honeymoon Island because cheating was an issue in a past relationship. In this clip from the premiere, Brandin isn't happy when Jona decides to go off on a jaunt with Kimber Gardner, a medical sales rep from Las Vegas.
When the clip begins, Kimber explains to Jona that she wanted to talk to him on the "pirate ship" (what exactly is going on on this show, because it sounds amazing) but didn't get a chance to. Jona is down for taking a dip in the ocean and catching up, but there's just one thing he has to do first. He had to talk to Brandin.
Kimber waits while Jona goes over to Brandin, who is lurking by a volleyball net with some of the other women. They had been watching him chat with Kimber with some trepidation, so the answer to Jona's opening question to Brandin seems obvious. He asks, "It's cool, right? You just wanna get to know other people?" Before he's done speaking, Brandin tells him that this is an awful situation for her to be in; it's fairly clear that she is not cool with it after all. But Jona brushes past that by telling her not to be weird about it. In the confessional, Jona shares his perspective on the situation in more detail:
I see Brandin really struggling with the pressure and this process, but before I can really make a decision, I need to think who else can I be interested in and get to know some other people today.
Brandin, however, doesn't appear to be down with this plan at all. Back by the volleyball net, she explains that "this" (presumably watching a person she's interested in go off with someone else) isn't fun for her. She says that it gives her anxiety and makes her not want to participate. Jona instructs her to take a deep breath, says she'll be alright, and gives her a friendly shoulder pat before heading off into the ocean with Kimber.
Jona tells Kimber how much he's into "open communication" while Brandin states once again that she doesn't like what's going on. In the confessional, Brandin says, "I thought that Jona and I had such a deep connection, but I'm not one that's gonna be competitive. Like if you wanna choose another girl over me, go for it. Because, like, I'm hot. And if you can't see what I have to offer, go be with that other girl. Don't waste my time and I won't waste yours."
Jona and Brandin could still make it work, but it looks like there will be some bumps along the way. But if they decide to call it quits, I'm sure both of them will be just fine: this early in the season, they still have plenty of time to find someone who's on the same page.