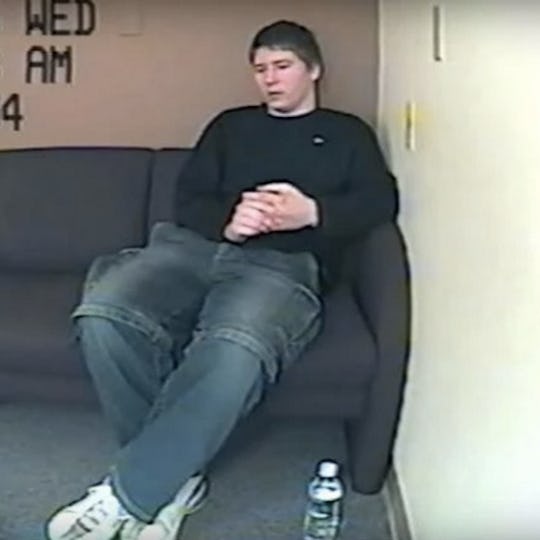 Netflix
Will Brendan Dassey Get A New Trial? 'Making A Murder' Fans Want To Know
It's news that Making a Murderer fans have long waited to hear: Brendan Dassey's conviction was overturned, ABC affiliate 12 WISN reports. E! News added that according to court documents, Dassey should be "released from custody unless, within 90 days of this decision, the State initiates proceedings to retry him." But if Dassey is expected to be released from jail in 90 days, will Brendan Dassey get a new trial? Here's where things get tricky. Dassey will, in all likelihood, be released from jail and a walking, talking free man unless the state of Wisconsin finds reason to retry him.
According to the Journal Sentinel, the publication that first broke the news, the decision to let Dassey walk was handed down by federal Magistrate William Duffin in Milwaukee. Previously, Dassey had argued that his constitutional rights were "violated in the way that the case against him was investigated." If the court is going to reopen the trial against Dassey, then yes, a new case will be required. According to NBCChicago.com, Northwestern University Center on Wrongful Convictions of Youth's legal team (based in Chicago) took Dassey's case to federal court in Wisconsin in 2014. The hope at the time was that Dassey would be given a writ of Habeas corpus, which is "used to bring a party who has been criminally convicted in state court into federal court," according to Cornell University Law School. Most often, a writ of habeas corpus is used to review the legality of a person's arrest, detention, or imprisonment.
The Journal Sentinel noted that the 91-paged decision found that investigators "made false promises to Dassey during multiple interrogations." In the document, Duffin wrote,
These repeated false promises, when considered in conjunction with all relevant factors, most especially Dassey's age, intellectual deficits, and the absence of a supportive adult, rendered Dassey's confession involuntary under the Fifth and Fourteenth Amendments. The Wisconsin Court of Appeals' decision to the contrary was an unreasonable application of clearly established federal law.
The Wisconsin Department of Justice declined to comment on the case at this time. Romper also reached out to Brendan Dassey's lawyers, but did not hear back at the time of publication.
So basically, what this all boils down to is: Will Dassey get a new trial? Will the State pass on retrying his case? And if that's the case, will Brendan Dassey finally — finally — be free? Stephen Govin, LLC, a Criminal Defense Attorney in Milwaukee who is not involved in Brendan Dassey's case, spoke to Romper and said that if the State wants to try Dassey's case again they'll have to do it without his statement.
If [the State] going to retry, they're going to have to do it without the statement. Duffin's decision could possibly be appealed by the Department of Justice, and if they do, it would go to the Seventh Circuit Court of Appeals. It seems like a fairly logical decision that Duffin used, so I'm not sure how far it will get them [in an appeal]. I think it was very thoughtful decision from Duffin, and I think many observers of the Dassey trial felt it was absurd that statement was allowed to be used in trial.
He added,
In this case, if they just went off of Duffin's decision, the District Attorney would have to make a decision [on whether or not to] retry without using Dassey's statement, and that would seem to be next to impossible to get a conviction without it. The whole case against Dassey was built around his statement.
But here's where things get dicey: Govin says that if the State decides not to retry Dassey now, it doesn't mean that they'll shy away from doing so in the future.
[The court] has to release him from jail, but let's say [the District Attorney] decides to retry him: he has to make an initial appearance and the judge would have to set bail, or they could decide no, we're not going to retry, we're going to release him. If they make that decision, they can still retry him in the future because there's no statute of limitations on First-Degree Intentional Homicide in the state of Wisconsin.
No matter what the State decides, if after 90 days there hasn't been a new case brought against him, Brendan Dassey will leave jail. What happens after that, apparently, is anyone's guess.