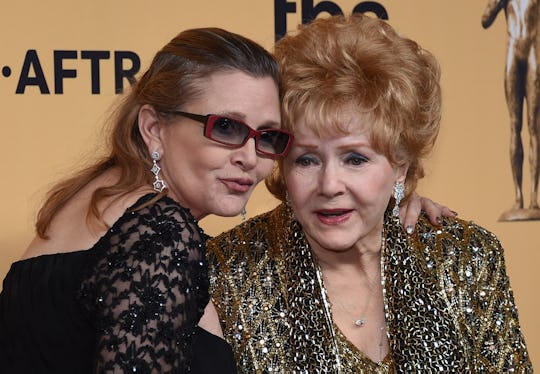 Ethan Miller/Getty Images Entertainment/Getty Images
How Carrie Fisher's Death Affects 'Bright Lights'
With the tragic passing of Carrie Fisher on Dec. 27, fans of the late actress are wondering what that means for what would have been her future projects. How will the Star Wars series go on without Princess Leia? Can Catastrophe work around the actress's death? Will Bright Lights still air on HBO in 2017? As of now, the fate of the latter project seems unclear.
Update: In a press release, HBO announced that it would move up the air date for 'Bright Lights', in light of the "recent and unexpected deaths of both Carrie Fisher and Debbie Reynolds." The documentary will debut Saturday, Jan. 7 at 8:00 p.m. ET, exclusively on HBO.
Earlier: For those unfamiliar with Bright Lights, and HBO documentary that was set to air in 2017, here is a brief rundown. According to The Huffington Post, Bright Lights chronicled the relationship Fisher and her mother, Hollywood legend Debbie Reynolds. The film, which featured footage from home videos, premiered at the 2016 Canes Film Festival and was met with rave reviews. The Wrap described Bright Lights as, "frank, funny and so revealing." But the film about the mother-daughter duo turned BFF next-door neighbors isn't completely lighthearted. The film dives into the Fisher's father and Reynold's husband, Eddie Fisher, leaving the family to pursue a romance with Elizabeth Taylor.
And that's not the hardest part to get through. According to The Wrap, the last half hour of the film captures Fisher suffering from a manic episode on camera. Though Fisher has always been open about her mental health, revealing her troubles in an interview with ABC News, it doesn't make watching her struggles any easier for fans. That being said, the difficult times are few and far between, and the film shows the beautiful bond this Hollywood family has, as evident by the clip below.
It has always been clear that the two had a strong, special relationship. Reynold's Twitter feed is filled with announcements about her daughter's projects. But their bond became evident after Fisher suffered a heart attack on Dec. 23. On Christmas, two days after Fisher's heart attack, Reynolds shared a message on Twitter about her daughter's condition, proving that she was staying by her side until things got better
Unfortunately, things never got better. According to People, Fisher died in the morning on Dec. 27. In a press statement, the Fisher's family spokesperson Simon Halls said:
It is with a very deep sadness that Billie Lourd confirms that her beloved mother Carrie Fisher passed away at 8:55 this morning. She was loved by the world and she will be missed profoundly. Our entire family thanks you for your thoughts and prayers.
So what does Fisher's death mean for fans who were hoping to see the actress outside of the Star Wars universe? Romper reached out to HBO for comment on the status of Bright Lights, but hadn't heard back at the time of publication. Given that the film had been wrapped for some time, it would seem that HBO would still air Bright Lights, but add an In Memorium note.
And, ultimately, that is would be the best way to honor the late actress. Fisher was known for her honesty and humor, and airing a series that shows her in a real, raw form would be the ultimate memorial to a woman who touched so many lives.