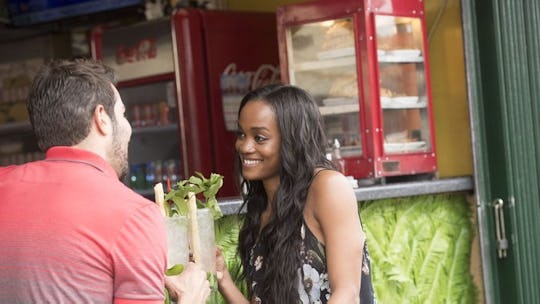 Rodrigo Varela/ABC
Bryan Could Be Headed Toward 'Paradise' After 'The Bachelorette'
With only a few episodes of The Bachelorette remaining, we'll soon find out if Rachel has chosen Peter, Eric, or Bryan as her fiancé. While there are plenty of clues making their case for each member of the final three, we won't know for certain until the final episode of the season airs, and there's always room for speculation, right? Knowing that plenty of former Bachelorette and Bachelor cast members often end up taking another shot at love on Bachelor in Paradise, there is a very important question to ask: will Bryan on Bachelor in Paradise?
Now that Dean has been confirmed for the Bachelor in Paradise cast (we were all rooting for you, Dean), it wouldn't be out of the question for Bryan to join him, in the event he is not the one who gets Rachel's final rose. As for where Bryan currently stands, well, he seems like he might be in a pretty good position going towards the end. In a sneak peak at Monday's episode, Rachel and Bryan are wearing matching watches, something that caused a little bit of cattiness among Bryan and his fellow remaining contestants.
While Eric tried to be level-headed about it, Peter is annoyed by seeing Bryan wearing the watch.
Peter's attitude tells us that Bryan having the watch clearly makes him nervous. So not only does Bryan seem to be a serious contender for Rachel's heart, but is also being seen as a serious threat to Peter. He very well might be one engaged to Rachel as we speak. However, Bryan's mom issues might be the thing that gets in his way in the end. But who really knows? Making predictions when it comes to this show is difficult!
As for Peter, we all saw his inability to commit to a proposal and to an "I love you." While the death threats Peter has received for his behavior are completely inappropriate, it does highlight the fact that he's probably not ready to be the one Rachel spends the rest of her life with. But is that enough to earn him a spot on Bachelor in Paradise? The spinoff show does pride itself in taking in fan favorites and characters who have caused controversy.
However this pans out, there is definitely still some drama waiting for us, even at such a late point in the season. And for that, all I can really do is say thank you to the reality TV gods.