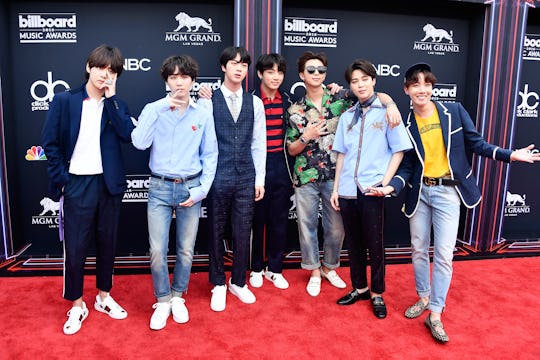 Frazer Harrison/Getty Images Entertainment/Getty Images
BTS Could Win Favorite Social Artist At The American Music Awards
When the K-pop group BTS performed their single "DNA" at the 2017 American Music Awards, it seemed to signal even greater crossover success in the future. They were the first K-pop band to take to the stage at the AMAs, and at the 2018 ceremony they landed a nomination for Favorite Social Artist, too. But will BTS be at the American Music Awards for a repeat performance?
When the 2018 American Music Awards air on ABC on Oct. 9, don't plan to jam out to BTS at any point in the show's run. It looks like RM, Jimin, Jungkook, V, Suga, Jin, and J-Hope won't be at the AMAs this year because of scheduling conflicts. According to their official website, BTS has been on the road since August on their Love Yourself world tour, which has taken them from city to city over the last few months. On Oct. 9, the day the AMAs will be filming in Los Angeles, BTS has a show in London at the O2 Arena. The timing is truly unfortunate, because BTS had been in the States just a few days prior — they were in New York on Oct. 6 and Chicago on the second and third. They were even in Los Angeles in September. It seems like the AMAs just missed them.
But all is not lost! Even though BTS can't be in two places at the same time, their fans will still get to enjoy all kinds of concert clips and social media comments on the day in question. They can also root for BTS to take home Favorite Social Artist, a category that has them up against Cardi B, Ariana Grande, Demi Lovato, and Shawn Mendes. Gold Derby reported that even with all those major stars as competition, the super-popular BTS were the favorite to win because of how dedicated their followers (referred to as ARMY) are. AMAs are determined thanks to online voting, so BTS have a real shot at winning whether they're there or not.
Gold Derby explained that generally, fans can only vote once a day on Twitter and in an online ballot, but Favorite Social Artist is different. In that category, as well as in New Artist of the Year and Collaboration of the Year, fans can actually vote 100 times a day using each method — which can add up to 200 votes per day. If the BTS ARMY comes through, then the group could be adding the AMA to their collection of awards alongside their two Billboard Music Awards (both for Top Social Artist, which they won consecutively in 2017 and 2018) and two Teen Choice Awards (for Choice Fandom and Choice International Artist). A group who literally wins prizes for their fandom definitely has a good chance if the AMA outcome is dependent on fan voting.
It may be disappointing for BTS fans to miss out on a performance at the American Music Awards, but the night might not be without its rewards. If BTS wins Favorite Social Artist, then that will be more than enough reason to celebrate.