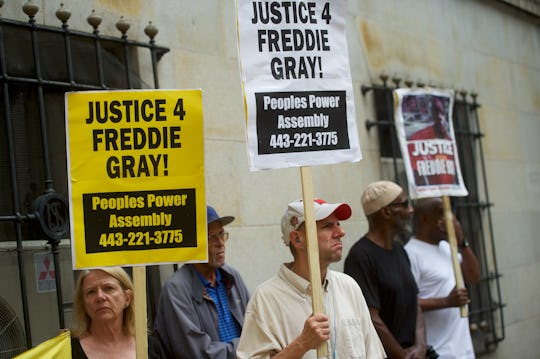 Mark Makela/Getty Images News/Getty Images
Will Caesar Goodson Keep His Job As A Police Officer? The Case Outcome Has Cause A Furor
Officer Caesar Goodson, the Baltimore police van driver who faced second-degree depraved heart murder for allegedly giving Freddie Gray a "rough ride" last April was acquitted of all charges on Thursday, according to the Baltimore Sun. Outrage on social media was building to a furor, and many people were wondering if Caesar Goodson will keep his job as a police officer. It's unclear if Goodson has been removed from the force entirely or placed on administrative duty.
Goodson was one of six officers indicted after Gray's death in April, which resulted after his neck was broken in the van, according to the Sun. Goodson faced charges of second-degree depraved heart murder, manslaughter, two counts of vehicular manslaughter, reckless endangerment, and misconduct in office, according to WBAL-TV 11 Baltimore.
The prosecution argued that Goodson was guilty because he failed to get prompt medical attention for Gray and because he never seat belted Gray when Gray was placed in the van handcuffed (Gray was instead placed in the van on his stomach), according to WBAL-TV. The prosecution alleged that Gray's injuries were sustained because he was bouncing around in the back of the van. Then, prosecutor Janice Bledsoe argued that Goodson "repeatedly failing to get medical care" for Gray — they argued that Goodson had five chances to stop the van and request medical care — constituted the second degree depraved-heart murder charge, according to WBAL-TV:
Officer Goodson never seat belted Mr. Gray and that is not what a reasonable officer would do. He had a duty to keep Mr. Gray safe, seat belting would have kept Mr. Gray safe.
But Circuit Judge Barry Williams said there wasn't enough evidence to support that argument, according to the Sun:
The court cannot simply let things speak for themselves.
Instead, Williams went with the defense's logic, which shifted all of the blame for Gray's injuries away from Goodson and onto other officers and onto Gray himself. For example, Goodson's attorney's argued that it was other officers' decision to not seat belt Gray, and Goodson simply went with what they decided. Additionally, his attorneys argued that officers had no reason to think Gray was injured and that Gray's injuries were his own fault — he had been placed in the van on his stomach and chose to stand up, according to the Sun.
The verdict was shocking to both the state's attorney's office and the Baltimore community, according to CBS Baltimore. Baltimore Mayor Stephanie Rawlings-Blake released a statement not commenting on the ruling, but instead asking residents to "continue to respect the judicial process and the ruling of the court."
But Tessa Hill-Aston, president of the Baltimore City Branch of the NAACP, wasn't as reserved in her comment, according to CBS Baltimore:
Everybody in Baltimore that lives in certain neighborhoods know exactly the definition of what a rough ride is…. A lot of them don't die. But in this case, Freddie Gray is dead, and no one will pay for it.
It's unclear whether Goodson will return to work as an officer, but his verdict will certainly have implications outside of his trial. Many argue that, because of Goodson's verdict, it will be much harder to get convictions for the remaining officers, who are all accused of lesser charges, according to WBAL-TV.