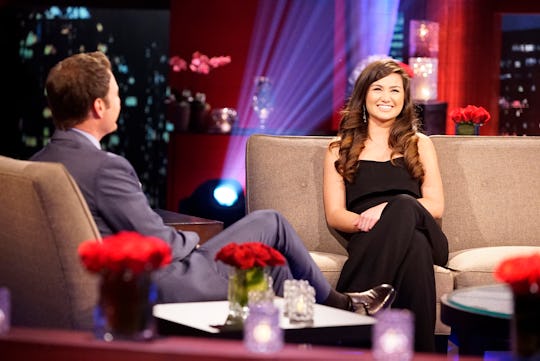 ABC/Kelsey McNeal
Will Caila Be The Next 'Bachelorette'? She May Be Getting Another Shot At Love
Poor Caila Quinn. The Bachelor contestant crushed everyone's hearts this week when Ben Higgins broke up with her on the hit ABC reality show this week. After finally telling Indiana native Ben that she was in love with him — something he had been prodding her to say for weeks — and spending a night with him in the fantasy suite, Caila was publicly dumped and scuttled away in a black SUV where she sobbed her eyes out. Fortunately, in the midst of all that, there was a happy silver lining: Now that she's officially not going to be Mrs. Higgins, fans are busy theorizing over whether Caila will be cast as the next Bachelorette.
Nothing's set in stone yet, of course. Caila still has some competition in the forms of Lauren B. and JoJo, two of her former Bachelor rivals (one of whom will be blissfully walking away into the sunset with Ben any day now). Tradition has it that one of the final three ladies to get the boot takes on the mantle of the new Bachelorette — and while both Lauren B. and JoJo are worthy of the title, it's Caila that fans really want to see take a second stab at love.
According to E! Online, Caila doesn't just have Bachelor Nation's enthusiastic support ("Please, please, please, Caila for Bachelorette," tweeted one particularly excited fan), it looks like she's got the backing of several Bachelor and Bachelorette alumni. "Caila [was] mentioned by several alumni as a standout," E! reported last month, following the show's 20th season reunion special, adding that Bachelor casting execs had a tendency to pick "the third place finisher."
Compounding the speculation this week was a tweet posted by Bachelor gossip king Reality Steve, who claimed that the bubbly, half-Filipino contestant had already secured the role. "Bring your toy houses, Barbie dolls, and perma smiles," joked the blogger, "sources have confirmed to me that Caila is your next Bachelorette."
Of course, while that's all exciting news, none of it will happen unless Caila herself feels ready to open up again on national television. That break-up with Ben was particularly brutal, and it definitely left fans wondering whether the Ohio-born contestant was prepared to face potentially more heartache as the official Bachelorette. Thankfully, for the legions of Bachelor fans who've been rooting her on since the start, Caila seems fairly ready to take the dive. In an interview with ABC this week, Caila explained,
I came home and I told my parents that he broke up with me and nobody understood how hard it was, [but after they saw the episode], they finally do. Him telling me that he was in love with two women was like, "Ugh. Gosh. Really?!" but I did appreciate him being honest with me, and it did help me heal.
Caila then added that, if asked to be the next Bachelorette, she would definitely consider the idea. "I did fall in love before so I know it would work," she said. That sort of talk easily lends itself to the theory that the Bachelor alumna has, indeed, decided to take ABC up on its offer. But whatever Caila ends up doing next, she's guaranteed to have a host of supportive fans cheering her on.