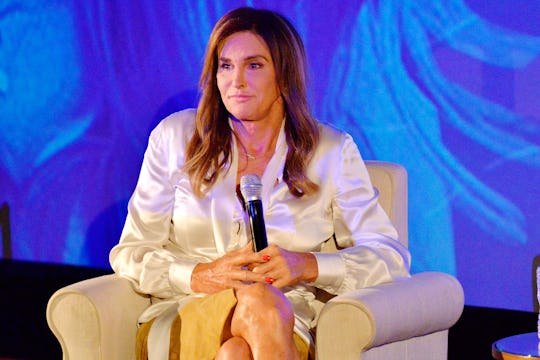 Jerod Harris/Getty Images Entertainment/Getty Images
Here's Why You Probably Won't See Caitlyn Jenner In The Kardashian Christmas Card
You're lying if you say that you aren't the least bit curious as to what the final photo of the Kardashian family Christmas card will look like this year. And so, with the big day almost here, will Caitlyn Jenner be in the Kardashian Christmas card? The family certainly has its fair share of drama, and it seems as if they'll keep things strictly "blood is thicker than water" based this year.
Unfortunately, the family has been going through a lot of drama recently. Between pregnancy rumors, announcements, custody battles, and more. But the Kardashian side of the family hasn't exactly been all too thrilled with the secrets and allegations in Caitlyn Jenner's memoir, Secrets Of My Life, which she released in April of 2017, and which brought with it a number of bombshells about the Kardashian family.
And since then, it seems as though Caitlyn has been pretty out of touch with the Kardashian family, with some sources estimating that she hasn't spoken to Kim Kardashian for at least six months. So, while the actual Christmas card has yet to be revealed save for a handful of snapshots from the photo shoot, it seems pretty safe to assume that Caitlyn Jenner will not make an appearance.
Thus far, Kim Kardashian has been teasing snapshots of the family Christmas card by posting one photo a day to her Instagram account, dubbing them the "25 Days of Christmas." And as can be seen, the pics of the family are perfectly on par with the clan's trendy brand, but there are a few people missing. Specifically, Kylie Jenner, Rob Kardashian, and Caitlyn Jenner are nowhere to be found in any of the shots.
However, two out of the three of those absences can be (mostly) explained. According to an anonymous source who spoke to People, Kylie has been laying pretty low following the news of her rumored pregnancy, which she has yet to confirm on her end. "For everything that she wants done, like her nails, she has people come to her house," the source told the publication. "She rarely leaves her house, and it's mostly for doctor's appointments." As for Rob, the father of 1-year-old Dream has also remained fairly private the past year, as his custody battle with ex, and Dream's mom, Blac Chyna wages on.
And considering the fact that both Rob and Kylie are at least still on good terms with the rest of the Kardashian family, and they still haven't been featured yet, Caitlyn's absence is not exactly a surprise. Additionally, E! News reported that Kylie and Rob "did take part in the Christmas card photo shoot with their family in November, E! News had learned at the time." As of yet, there have been no reports of Caitlyn having been there.
And, again, this isn't exactly surprising. In an interview with Good Morning Britain, Caitlyn revealed that she hasn't spoken to Kim for or Kris for months. "Since the book came out, I've never talked to Kris again. Kim, I haven't talked to in six, nine months, whatever it is," she said. To reiterate, Caitlyn's book sparked a lot of controversy when she alleged that Kris knew a lot more about her gender identity than she let on.
Per E! News, Caitlyn wrote:
I tell Kris about my gender issues before I make love to her. This will always be a subject of dispute between Kris and me as to how much she could intuit about my gender issues. She insists that she was taken by surprise by my ultimate transition to Caitlyn…I told her I dressed as a woman, and she knew I did, because I did it several times in front of her after we were married.
Kris, for her part, has refuted these claims and seemingly cut off any contact with Caitlyn. "I've never been so angry and disappointed in somebody in my whole life. I'm done," she said on an episode of Keeping Up With The Kardashians, according to E! News.