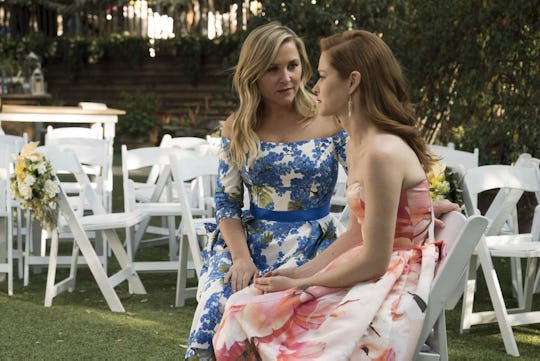 Eric McCandless/ABC
Arizona's Departure From 'Grey's Anatomy' May Come With Some Good News
During the season finale of Grey's Anatomy, fans had to say goodbye to two of their favorite characters — April Kepner and Arizona Robbins. However, it seems the finale may have provided a silver lining for Arizona who may be reconnecting with an old flame. So will Callie and Arizona really get back together on Grey's Anatomy? It definitely seems possible.
While at Alex and Jo's wedding, Arizona opened up to April that every time Callie texted her she couldn't stop smiling. Additionally, she also revealed that Callie's single now, which may leave some fans wondering what happened with Penny, but I'm not one of those people. Anyway, the point is both Arizona and Callie are single right now and with Arizona now moving to New York, it means the door is wide open for this popular couple to be reunited.
Naturally, Arizona was trying to resist the feelings she was beginning to have again for Callie, reminding April, and Dr. Webber, that no one had ever broken her heart the way that Callie did. Twice. Though it's worth noting that Arizona wasn't exactly an innocent party in their marriage either, but sure let's just go with this revisionist history for now. In any case, April pointed out that she hurt Matthew in a major way by leaving him at the altar, but they were still able to work it out and get back together.
Similarly, Webber also pointed out he's hurt Catherine a number of times, but Catherine forgave him and they made their relationship — and eventual marriage — work as well. Basically, the general consensus was Arizona should give Callie another chance and after seeing April and Matthew finally get married, it seemed that was the last push Arizona needed.
At the very end of the episode Arizona got yet another text from Callie, which said, "I can't wait to see you," and this time Arizona didn't even try to hide her smile. On top of that, although Sara Ramirez who plays Callie didn't turn up for the finale, the song that played during this scene was actually Ramirez's cover of Brandi Carlile's song "The Story," which was first heard during the Season 7 musical episode of Grey's. Thus, even though Callie wasn't physically there, her presence was still felt during Arizona's final episode. This also seems to make it clear that Callie and Arizona will be together again in New York, so the "Calzona" ship lives on.
Although we may never get to see them actually live their happily ever after together since both actresses are no longer on the show, it's still nice to believe that one of the greatest lesbian couples in TV history ended up together. Since Callie and Arizona split, fans have never been satisfied with the other people they dated, because nothing could measure up to the Calzona ship.
Arizona was the first woman Callie ever loved and Callie has always been part of Arizona's story on Grey's. She was first introduced during Season 5 as Callie's love interest and while Arizona obviously grew into her own character and even stuck around after Callie left, it was still her love for Callie that really drew fans to her in the beginning. Thus, it was only right that Callie was also involved in Arizona's exit from the series, and it really made Arizona's story feel like it came full circle.
Plus, after everything these two ladies have been through, both together and apart, they deserve to be a family with Sofia. It's what Mark (RIP) would've wanted and Sofia will of course be over the moon about it. So while it's still sad to say goodbye to Arizona, it's at least good to know that she'll be living happily in her new life in New York.