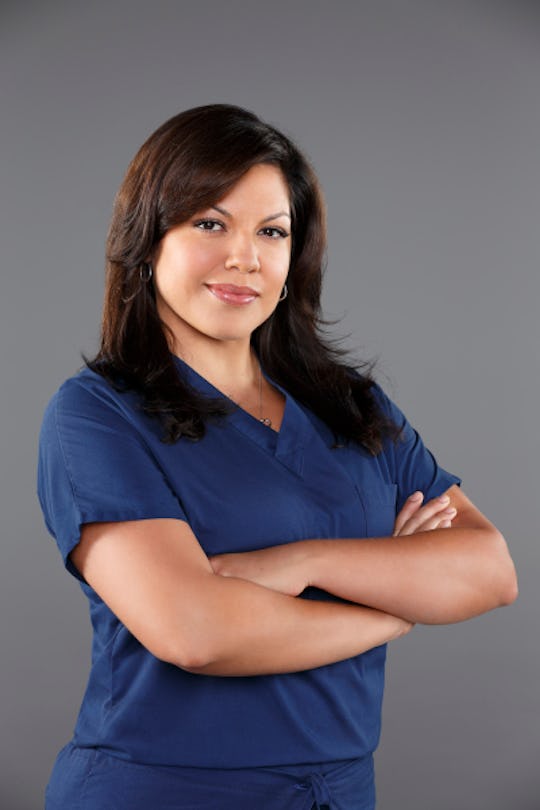 Bob D'Amico/ABC
Will Callie Die On 'Grey's Anatomy'? Fans Are Thinking The Worst
If you're a Grey's Anatomy fan you've come to learn that no one is safe. Shonda Rhimes can kill off your favorite character and you just have to try to accept it and pick up the pieces of your broken heart. Well, as Season 12 of Grey's comes to a close the speculation of Callie Torres' life expectancy continues to diminish. It all began when her girlfriend, Penny, got a new job in New York. Fans worried that meant actress Sara Ramirez could be leaving the show after this season, breaking the hearts of "Calzona" shippers everywhere. But then there's also a much darker alternative... Could Callie die on Grey's Anatomy? It seems extreme, but it wouldn't be the first time.
It seemed fans had a right to be worried when Callie confirmed that she would, in fact, be moving to New York with Penny and wants to take her daughter, Sofia, with her. This has since led to the start of a custody battle between Arizona and Callie for Sofia because Arizona doesn't want Sofia to go. On the penultimate episode of the season, will determine whether Arizona or Callie will win custody and it's sure to be filled with drama as doctors at Grey Sloan are all pulled in to give their opinions.
Truthfully, it'll be a tough call for the judge to decide who get's custody because Arizona and Callie are both great parents but right now the custody of Sofia is the least of fans' worries. After Sara Ramirez, who plays Callie, tweeted out what seemed to be a goodbye to the show forever, fans began to speculate that she might be killed off.
After all we've been through with this show, it's no surprise fans are thinking the worse. Shonda has proven time and time again that no one is safe. Plus, killing off Callie would be an interesting plot twist to the whole custody battle. Arizona would get Sofia by default but of course she'd feel guilty about it, leading to a whole new storyline for the next season.
Still, this all seems like a stretch. It's possible Ramirez is just leaving the show because Callie ends up going to New York with Penny, as is her current plan. Or Ramirez may not even be leaving the show at all and is just saying it was a great season but now it's over. So much could be read into this and it's hard to try to predict what exactly may happen on the next episode of Grey's Anatomy. Here's to hoping Callie survives the next episode and hopefully the rest of the season. Seriously, we'd miss her if she left.