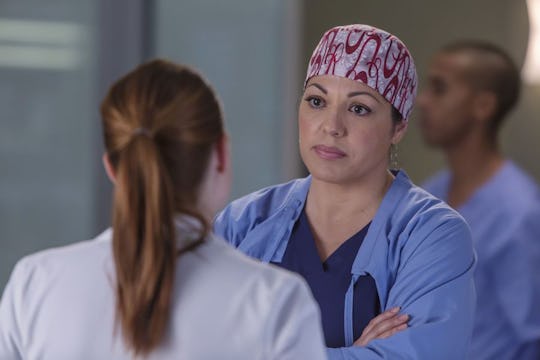 Ron Batzdorff/ABC
Will Callie Leave Grey Sloan On 'Grey's Anatomy'? Arizona Won't Be Happy
Recently on Grey's Anatomy, all of the residents competed for a grant to do research at a hospital that is, of course, not Grey Sloan Memorial. Although Penny initially said she wasn't going to apply because she didn't want to leave Callie — plus, she has just gotten used to Grey Sloan — she decided to go for it. And to everyone's surprise — and the other residents' anger — Penny actually got the grant. So, does that mean that Callie will leave Grey Sloan on Grey's Anatomy to move with Penny?
Penny, of course, is excited about the opportunity, but based on the way Callie kept repeating, "Are you kidding me?" it's clear Callie is not. Why shouldn't she be upset? Callie's love life has kind of been a mess since the day she arrived on Grey's Anatomy. She was married to George, who cheated on her, discovered her sexuality with a doctor who inevitably left Callie high and dry, and then she finally married Arizona, only to be cheated on again.
To put it plainly, Callie's love life has been rough. But, now she has Penny. And yes, she's kind of responsible for McDreamy dying (never forget) but you know what, besides that, Penny is pretty cool. But because Shonda clearly doesn't want Callie to be happy, Penny is going to leave Callie now, too — probably. And who knows how far away Penny will have to go for this grant. What if it's on the other side of the country?
If this feels like déjà vu, then you're not alone. Right now Callie is probably remembering that time Arizona got a grant to work in Malawi and how she almost went with Arizona, but instead they broke up and Arizona left, while Callie stayed behind. What if this time Callie makes a different choice and goes with Penny? Maybe for once Callie would rather follow her heart than do what makes sense — and can you blame her?
There's only one issue with that plan: Sofia. At this point, Callie and Arizona have been on pretty good terms, but what will happen if Callie leaves? Surely she'll want to take Sofia with her, and if Arizona objects — which she undoubtedly would — that could lead to a nasty custody battle that tears apart the Calzona friendship. And wasn't their divorce enough heartache?
Hopefully Callie chooses to stay in Seattle with Sofia on Thursday's episode of Grey's Anatomy. Penny's great but honestly, she's not that great.