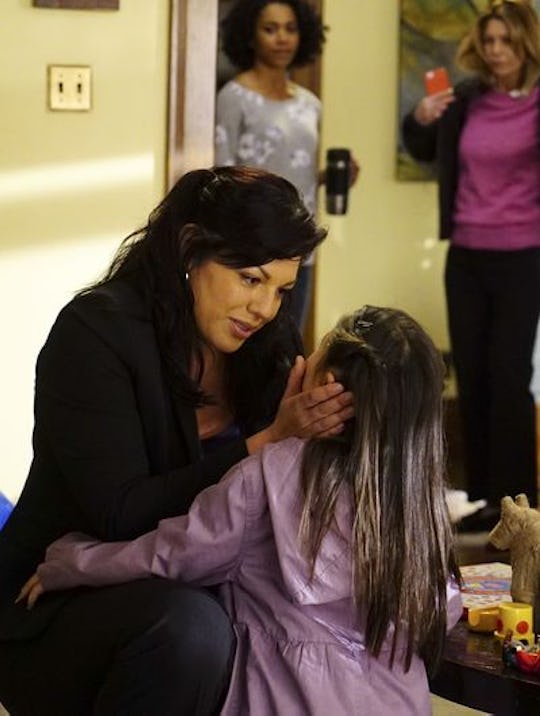 Richard Cartwright/ABC
Will Callie Return To 'Grey's Anatomy' Season 13? She's Moving To New York
Grey's Anatomy Season 13 is almost upon us and it's a little unbelievable. In the past 12 seasons we've had to say goodbye to so many characters and last season we had to say goodbye to one more. Unfortunately, Callie won't be returning to this season of Grey's Anatomy and she will be sorely missed. Season 12 was filled with a lot of ups and downs for Callie, most of which stemmed from her relationship with Grey Sloan's newest intern, Penny. When Penny got offered a grant in New York, Callie wanted to go with her and take Sofia with her. Naturally that was easier said than done.
Arizona feared Callie would just take Sofia away from her and decided to go to court to fight for full custody of Sofia. Things got ugly pretty fast but in the end Arizona got full custody and Callie decided she couldn't go to New York without her daughter. However, Arizona, being the kind and forgiving woman that she is, came up with a solution so that Callie could go to New York with Sofia and they would just share custody. So Callie has officially left Grey Sloan Memorial Hospital and will follow her girlfriend to the east coast.
Although Callie wasn't in the first season, she first appeared in the second and it feels like she was there from the very beginning. We watched Callie grow from the wife then ex-wife of George O'Malley to discovering she was bisexual and proud of it. Callie's storyline has been inspiring to so many people, especially those in the LGBTQ community, and it's heartbreaking to have to say goodbye but hopefully it won't be forever.
Unlike many other characters that have left Grey's Anatomy, Callie's character wasn't killed off, she just went away. More importantly, Penny's grant is only for a year so it's possible Callie will only be gone for this one season and then be back for Season 14. One can dream. For now though, Season 13 won't feel the same without her and it'll be interesting to see how Grey Sloan Memorial Hospital transitions in her absence. For one thing, they'll need a new head of orthopedic surgery. Hopefully this new character won't stir up too much trouble. Just kidding, this is Grey's Anatomy, of course they will.
Grey's Anatomy returns to ABC on Sept. 22 at 9 p.m. EST.