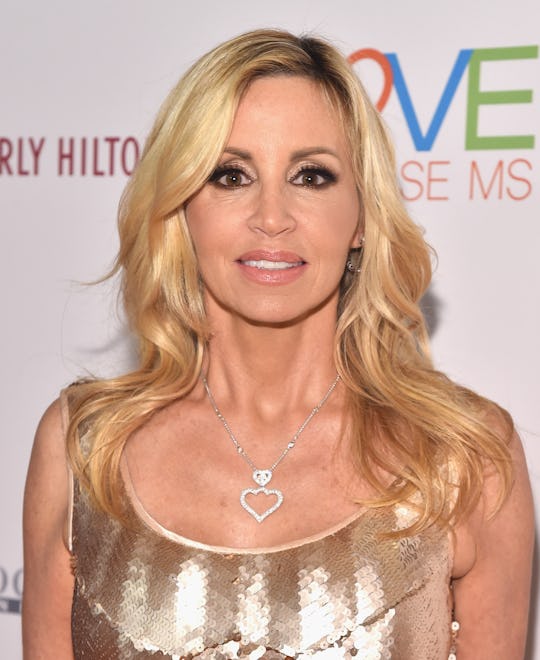 Alberto E. Rodriguez/Getty Images Entertainment/Getty Images
Here's Camille Grammer's Casting Status For 'RHOBH' Season 9
Real Housewives of Beverly Hills is gearing up for its Season 9 return and as the cast begins to take shape, longtime fans may be wondering: will Camille Grammer return for RHOBH Season 9? She's had a long history with the show. Camille, who when the show first began, was married to Frasier star Kelsey Grammer, was part of the original cast when the show debuted in 2010. After two seasons as a main Housewife (and after news of her divorce broke in 2011), she stepped down to official "friend" status for Season 3. Camille took a break from the series altogether for Season 4, and then returned as a "guest" for Seasons 5-7. Last season, she was back as a friend of the Housewives, but for Season 9, she's been confirmed as a main cast member yet again.
Possibly contributing to her glow-up is the fact that Camille got married in Hawaii this month with four fellow Housewives present at the nuptials: Teddi Mellencamp, Dorit Kemsley, and Lisa Rinna came as guests, and Kyle Richards was a bridesmaid. Real Housewives stans know that Bravo loves a franchise wedding and can generate endless storylines out of bougie wedding planning, so the timing for Camille to rejoin the show was perfect.
As for how her season will go, it seems like she's trying to start off on a diplomatic foot. Camille gave Us Weekly an update on where she stands in her relationships with her other castmates, saying:
I adore Kyle [Richards], Lisa… 'cause we've been through a lot together over the past eight, nine years. There's a certain connection that keeps us all together. Erika [Jayne], I don't really know her that well. Lisa Rinna, she's a riot. She's so much fun and unapologetic and I love that. And I love Teddi [Mellencamp]. I thought Teddi was a great addition and she's fantastic. She's so supportive, she's super cool, and I've liked her from day one.
Her relationship with swimsuit designer Dorit Kemsley, however, has been much more tumultuous after a Season 8 blowout, but she insists that things between them are going "much better," adding, "After the reunion we made amends and I'm cautiously optimistic of our future as friends."
Of course, many a Housewife has started the season cautiously optimistic only to end it by throwing a prosthetic leg at Le Cirque, but for now, let's coast on Camille's good vibes!
According to People, Camille married her boyfriend, attorney David C. Meyer, at a private beach club in Hawaii last weekend. The pair first met in 2016 and got engaged the following year. Gushed Camille in an interview, "This is my next chapter. I'm so excited to start our life together."
Her two children with Kelsey Grammer were also involved in the wedding, and the family seems to be blending seamlessly. "I love the way he loves me," she told People. "It means so much to me. And I know we will honor our commitment to each other for the rest of our lives."
Now fans just have to keep their fingers crossed that the wedding will be shown on Season 9 of the show.