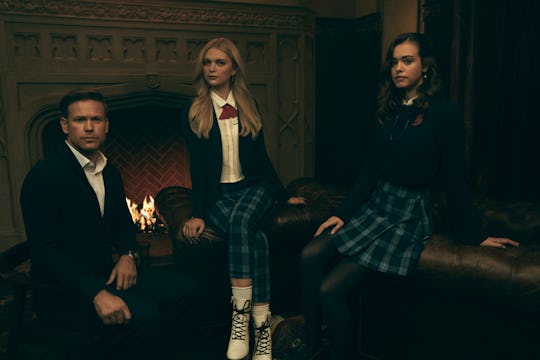 Miller Mobley/The CW
Fans Are Hoping To See Caroline Return On 'Legacies'
The Vampire Diaries and The Originals may have ended, but it doesn't mean you've heard the last of the Salvatore and Mikaelson broods. Their drama continues with the next generation of supernatural teens on The CW's spinoff series, Legacies. Some original TVD characters are returning, but fans are wondering if they'll get to see their favorite blond vampire-werewolf hybrid come back as well. So, will Caroline be on Legacies?
Well there's good and bad news. The bad first: Caroline (Candice King) won't be on the first few episodes of the season. But the good news is that showrunner Julie Plec has hinted that Caroline's character, while temporarily absent, is very much alive and a part of the storyline. In an interview with Entertainment Weekly, Plec explained that Caroline's adopted daughters, Josie (Kaylee Bryant) and Lizzy (Jenny Boyd) and friend Alaric (Matt Davis) are main characters on the show. She revealed that Caroline's presence will be heard and felt throughout the beginning of the season, and she might make an appearance at some point.
"I don't know when we'll see her. I, of course, would like to see her anytime. The door is open. But the girls are dealing with the fact that their mother, who has raised them, is a little absentee lately," said Plec. "They believe she's off on recruiting missions, [but] Alaric knows she's actually off doing other things that have to do with the long-term survival of their daughters. So the mystery of, where is Caroline, why isn't she coming home for their birthday, that kind of thing is gonna be part of our story in the hopes that one day we'll be able to walk to have her walk through the doors as well."
The producer isn't the only one optimistic about bringing Caroline back into the fold. Actress Candice King told Meaww that she's also open to reviving her character. When asked about a potential role on Legacies, the actress told the outlet that fans wouldn't be seeing her anytime soon, but the door remains open. "Never say never," she told the outlet, "I'm really really excited for the series premiere." While Caroline's return to the series could come as a surprise down the road, there are a few confirmed returning characters that fans can expect to see when the season begins. Damon and Stefan are present by name through their Salvatore School for the Young and Gifted, which will be attended by supernatural students, including Klaus and Haley's daughter, Hope Mikaelson (Danielle Rose Russell) and the Saltzman twins.
In an interview with TV Guide, Plec explained that the series begins with a primer, and will fill fans "into what's going on with the school and the town of Mystical falls." She revealed that Alaric will return as the headmaster of the school — noting that "he's somewhere between Professor X and Dumbledore" — and that he will have tense relationship with Matt Donovan (Zach Roerig), who returns as the sheriff of Mystic Falls. The producer also told TV Guide that fans can expect to see Jeremy Gilbert (Steve McQueen) "pop up in a couple of episodes," as he comes back to town to hunt a certain supernatural.
So, as of now, there's no official word on Caroline's return to the series, but just hearing Plec and King's optimism for the character's future is enough to keep fans hopeful. With her kids in the picture, it will be hard to keep a devoted mom like Caroline away for long. It may just be a matter of time before fans see her come back to Mystic Falls and dive back into its supernatural drama.
Legacies premieres Thursday, Oct. 25 at 9 p.m. ET on The CW