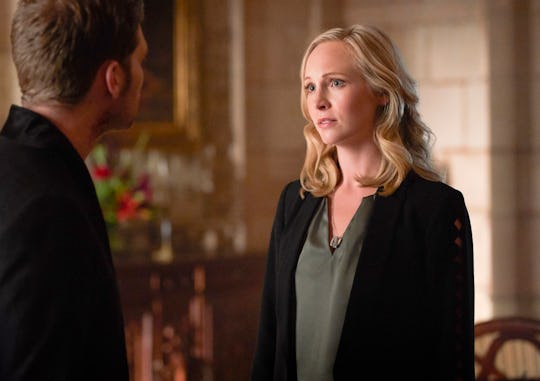 Bob Mahoney/The CW
Caroline's Time On 'The Originals' Isn't Over Just Yet
During the fifth season premiere of The Originals, Caroline Forbes and Klaus Mikaelson finally had a face to face reunion after numerous years apart. Naturally, "Klaroline" fans were over the moon. That being said, many fans were disappointed that their time together was so short and are now wondering: will Caroline ever return to The Originals? Thankfully, the answer to that seems to be a firm yes.
Although showrunner Julie Plec has never said how many episodes Candice King, who plays Caroline, would be in, she did tell a fan during a Twitter Q&A that "we'll see Caroline several times over the season." Thus, Caroline will more than likely be back for at least a few more episodes, but it's unclear just how often she'll be popping up.
After Rebekah called her up to check in on Klaus, Caroline pinned Klaus to a wall and gave him a good talking to (which he desperately needed). While the pair had a productive conversation and the chemistry between them is still going strong, nothing earth-shattering happened, and once their talk was over Caroline, headed back to Mystic Falls where she's currently headmistress of the Salvatore School, which Klaus' daughter, Hope, attends — or at least she did until she got suspended.
Caroline did tell Klaus that she'd see him at the next parent-teacher conference though, so perhaps that's when their paths will cross again. Surely, there will have to be a discussion about Hope's suspension at some point, right? Sure, Klaus certainly has bigger issues to contend with at the moment, but maybe Caroline will step in and help him with those as well. Or maybe Klaus will need to go to Mystic Falls for some reason or another. Whatever happens next, this was certainly not the last Klaroline fans will see of them, and it'll be exciting to see how their friendship plays out. Many fans, myself included, hope it ends in a romance, but the cast and crew are staying tight lipped on the possibility of that.
When discussing Klaroline with TVGuide, Plec said that she's "always loved the very strange and layered dynamic between Klaus and Caroline." She also called what Klaus and Caroline have together a "nice relationship and that Caroline is "one of the few people outside of Klaus' family that can actually speak a straight truth to him, and he needs that." However, she also referred to the pairing as a "friendship," which seems to indicate Caroline and Klaus won't necessarily end up romantically involved.
Similarly, in that same interview, Joseph Morgan, who plays Klaus, warned fans that "not everyone is going to be satisfied," by what happens between Klaus and Caroline this season. Even so, he also said that he's "certainly satisfied with the ending that those characters have." So wherever Klaus and Caroline end up, it doesn't sound like it won't end in sadness, at the very least. Still, I'd desperately like to see this ship finally sail in the finale. This is the final season of The Originals, after all. Doesn't Klaus deserve to finally find the love of his life? Hasn't he been through enough? I certainly think so.
But before Klaus and Caroline could ever possibly live their happily ever after, Klaus first has to figure out what's happened to Hayley, and perhaps finally discover a way to defeat the Hollow once and for all so that he can be in his daughter's life for good. Here's hoping a resolution is found that doesn't somehow end in someone's death. Actually, who am I kidding? This is The Originals; someone's definitely going to die before the series comes to a close. We can only hope it's someone inconsequential... like Hayley's new boyfriend. Fingers crossed!
Check out Romper's new video series, Romper's Doula Diaries:
Watch full episodes of Romper's Doula Diaries on Facebook Watch.