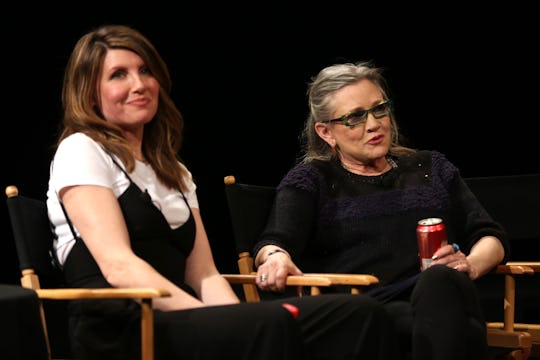 Robin Marchant/Getty Images Entertainment/Getty Images
Carrie Fisher Likely In 'Catastrophe' Season 3
When Carrie Fisher collapsed due to a heart attack on a flight from London last Friday, she was returning to Los Angeles after acting on a well-loved British, comedic television series. Fans of the show — and Fisher alike — are now wondering, given the actress' sudden passing, what will become of the show? Will Carrie Fisher appear in the next season of Catastrophe? The 60-year-old's recent death has many hoping that her legacy will persist in forthcoming works, especially this recent role where her humor and talent truly shone.
Totaling the show's first and second seasons, Fisher appears on four of the 12 Catastrophe episodes portraying Mia, mother to one of the show's leads and writers, Rob Delaney, who plays Rob Norris, and mother-in-law to co-lead and co-writer Sharon Horgan, who stars as Sharon Morris. "I did really want to play an awful person," Fisher said in an interview where she reflected on her decision to take the role. But it wasn't easy to get to her — Delaney and Horgan took to Twitter as a way to recruit Fisher for the part. When that didn't work out, they went a more conventional route, propositioning Fisher's agent. After reading a couple scripts, Fisher signed on, saying "I loved the writing; It's a writer's show; I've written some stuff so I really appreciated it."
Catastrophe was renewed for third and fourth seasons, with the third season set to premiere in 2017 and the fourth in 2018. The show airs on Channel 4 in the U.K. and streams on Amazon Prime Video. In posting an on-set photo to Instagram from Season 3's shoot, Horgan shared her thoughts on Fisher's sudden death, saying:
Carrie was my friend. It took me three series but I got her in the end. She was the most generous, fun, gifted, smart, kind, funny funny funny person I've ever met. She certainly wasn't ready to go. I'm so glad we became pals. I'm so devastated at her loss. I want to write about her more but I can't process yet.
Horgan's message, along with a Tweet from Delaney about Catastrophe's final callsheet, indicate that Season 3 had just wrapped the week prior to Fisher's death. Thus, it seems that Fisher's undoubtedly hilarious and insufferably critical mother-in-law role will live on for another season. Fans are likely wondering what the loss of Mia will mean for the show, and how Horgan's character may have, in Horgan's words, "got her in the end," all important inquiries that will have to wait until the seasons air.