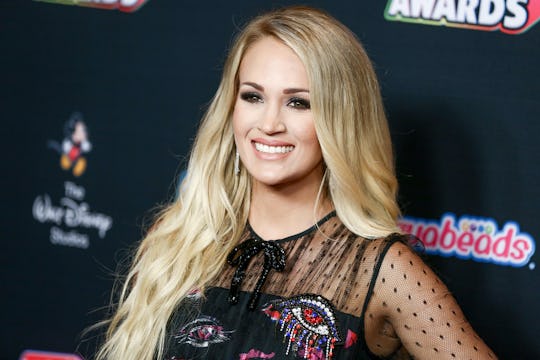 Rich Fury/Getty Images Entertainment/Getty Images
Fans Are Wondering Whether Carrie Underwood Will Be Pregnant While On Tour
Singer Carrie Underwood made a couple of big announcements less than a month ago. On Aug. 8, Underwood announced that she is going on tour in 2019. She also announced that she is expecting again. So some fans are wondering: will Carrie Underwood be pregnant on tour? She's not going on the road right away, but fans may be a little confused about the timelines regarding her pregnancy and her upcoming tour.
In early Aug., the 35-year-old country music singer announced she is going on the Cry Pretty 360 Tour in May 2019, according to E! News. That's about eight months away at this point, and Underwood announced her pregnancy about a month ago. She did not, however, note how far along she is, and the tour would have been about nine months off at that point. It's probably safe to say Underwood didn't announce her pregnancy too early on, so it's likely she won't be pregnant at the start of the tour or during its run.
But again, since Underwood didn't say how far along she is during her pregnancy announcement, fans also don't know if she's getting back on the road really quickly after having a baby. But Underwood has had a baby once before, and probably has some idea what kind of recovery time she thinks she'll need after she gives birth.
Cry Pretty will be released on Sept. 14, and Underwood is launching her tour in support of the album in May 2019, according to Rolling Stone. That gives fans plenty of time to enjoy Underwood's new music, and presumably for Underwood to spend some time with her expanded family before she goes back to work.
Underwood made both big announcements in an Instagram video on Aug. 8. She started the first video in the post by talking about her upcoming tour, then brought up her pregnancy by first saying, "You might be wondering or asking, 'Carrie, why is your tour starting in May?' Well...yay!" The camera then pulled back to show balloons above Underwood spelling out B-A-B-Y. Underwood then continued, "Mike and Isaiah and I are absolutely over the moon and excited to be adding a little fish to our pond."
For those of you who may not be in the know, Mike is Underwood's husband, and Isaiah is their three-year-old son, according to Country Living.
Underwood went on to say in the Instagram video:
This has been a dream come true with the album and baby news and all that stuff. We're just so excited and just so glad that you guys can share in this with us and be a part of this with us.
The news may have come as a surprise to fans who follow Underwood closely. Just days before the announcement, on Aug. 2, Underwood said in an interview with Redbook that she wasn't sure she was going to be able to have a big family, and didn't mention being pregnant at all. Underwood said in the interview:
I'm 35, so we may have missed our chance to have a big family. We always talk about adoption and about doing it when our child or children are a little older. In the meantime, we're lucky to be a part of organizations that help kids, because our focus right now in our lives is helping as many kids as possible.
Although Underwood did say "or children" there, so it could be that she already knew she was pregnant even if she hadn't revealed the news to fans just yet.
Considering the fact that there are several months to go before Underwood's next tour kicks off, she is not likely to be pregnant with this baby while on tour. The Cry Pretty tour goes through Halloween of 2019, so depending on how far along Underwood is and when she has this baby, I guess it's always possible she could be pregnant again over a year from now, though it doesn't sound likely.
But as for this pregnancy, it sounds like Underwood is holding off on going on tour until after it's over. Underwood has not yet revealed whether she's having a boy or girl, according to Country Living. There's sure to be lots of exciting news like that for fans to watch out for regarding both this baby and Underwood's tour over the coming months.