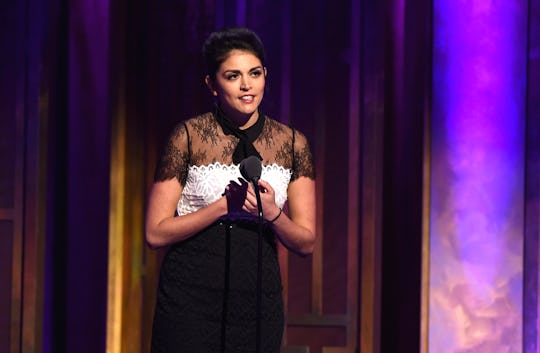 Ilya S. Savenok/Getty Images for Peabody Awards
Will Cecily Strong Play Lace On 'SNL'? She's Already Got The Character On Lockdown
When it comes to spot-on impressions, Saturday Night Live has already set the bar pretty high (Tina Fey as Sarah Palin, anyone?). But it looks like this season of The Bachelor may have inadvertently created a perfect opportunity for Cecily Strong: her character The Girl You Wish You Hadn't Started A Conversation With At A Party is pretty much a dead-ringer for Lace, the Bachelor contestant everyone has been talking about since the moment she stepped out of the limo. So will Cecily Strong play Lace on SNL? There's been no word so far, but pretty much the entire Internet thinks it make sense — and more importantly, so does Cecily Strong.
The comedian acknowledged the uncanny similarity between herself and Lace on Instagram a week ago, saying that she was "actually 1000% flattered" by the comparison. She didn't mention The Girl You Wish You Hadn't Started A Conversation With At A Party, and she also didn't say anything about potentially playing her on TV. But it didn't take Strong's Instagram followers long to pose the question anyway, with one commenter asking her to "please do a Bachelor skit on SNL!" and another noting, "the head roll-after she makes a statement and slurred speech is classic @cecilystrong."
So how likely is it that Cecily Strong will bring Lace to life on SNL? It's entirely possible, just based on how much attention Strong has already received about it. And it wouldn't be the first time that the show parodied The Bachelor: according to US Weekly, Blake Shelton played a Bachelor-type character last January on a skit called "Farm Hunk," and it was pretty hilarious:
There's no doubt that Bachelor fans are dying to see Strong's best Lace impersonation (which, let's be honest, she already pretty much does exactly), and viewers have been discussing the comparison on Twitter since the first episode aired:
Between her turn as the host of last April's White House correspondents' dinner (hilarious) and her amazing impersonation of GOP candidate Carly Fiorina at a Republican primary debate this past December (100 percent on-point), Strong has had a pretty good go of it over the past year or so — it might just be time then for her to take on brand new challenge and prove to everybody just how good she is at her job.
Let's be honest, as much fun as it is to watch Lace's antics on The Bachelor, it will be about a million times more entertaining to watch Cecily Strong impersonate Lace's antics on Saturday Night Live.
Image: Ilya S. Savenok/Getty Images for Peabody Awards