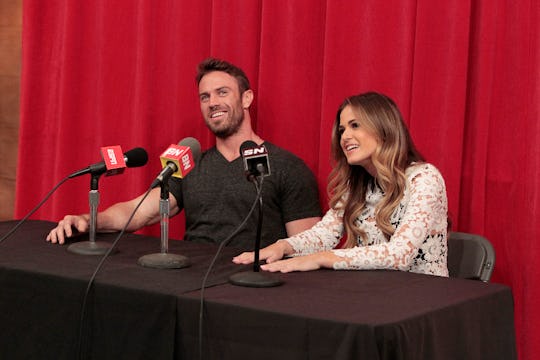 Rick Rowell/ABC
Will Chad Johnson Be The 2017 'Bachelor'? A Chad-Centric Spinoff Could Be In The Works
Season 12 of The Bachelorette is winding down as we head into the final three episodes of the season. Surprisingly, we're heading into the hometown dates with JoJo Fletcher's final six, rather than what should have been her final five. Meanwhile, it's becoming increasingly clear that Alex is the new Chad, taking up our favorite meat-lover's argumentative and brash mantle after "defeating" him during their two-on-one date earlier this season – which is both ironic and humorous, given how much Alex claimed to detest Chad's attitude when it was directed towards him. But as with cheap deli meat substitutes, it's not quite the same as the real thing – there's only one Chad, and that's Chad. And it's totally possible that the one and only Chad will be the 2017 Bachelor, according to a certain tweet from Mike Fleiss, the creator of the franchise.
I know what you're thinking – insanity, right? Who, how, why? How could this happen? Chad, who is recently filmed an appearance on Bachelor in Paradise, may be entertaining, but he's way too much of a one-dimensional jerk to have an entire season of eligible women vying for his affections. How could any Bachelorette contestant who is a favorite of Justin Bieber and notorious reality TV bad guy Spencer Pratt wind up as the next Bachelor?
And yet, here we have it. Fleiss tweeted the above soon after an earlier tweet asking his Twitter followers who they wanted to see as the next Bachelor.
Stranger things have happened, and as with most TV, it's all a ratings game. Chad might have come off as hotheaded and unhinged during his brief appearance on The Bachelorette, but in all likelihood, that's just a put-on personality that he exaggerated for the benefit of the show. If it was an act, it totally worked to his benefit – Chad's social media following increased exponentially and almost instantly after his appearances on the show aired.
If he were to star on the 21st season of The Bachelor, he would almost certainly tone down the antics. They'd be funny for a week or two, and perhaps would be enough to draw viewers in, but after a while he'd have to magically transform into a real person in order to remain relatable and watchable.
On the other hand, Fleiss' follow-up tweet seemed to indicate that he might have had something else altogether in mind for Chad. He indicated that, rather than becoming the star of The Bachelor Season 21, perhaps Meat Chad's antics had earned their very own spin-off series (in what would be the fourth spin-off of the franchise since The Bachelor began airing in 2002).
Fleiss even hashtagged a potential show name, Chad to the Bone, which I honestly adore.
The prolific showrunner clearly knows what he's doing. He recognized lightning in a bottle when he created The Bachelor and from there he's created other majorly successful spin-offs The Bachelorette, Bachelor Pad, and Bachelor in Paradise. What I'm saying is, he knows a hit when he sees one. Whatever Chad is doing now while filming Bachelor in Paradise must be quite something, to warrant all this talk of a potential new spin-off before that season has even aired.
At the very least, this hype has gotten me excited to see what meat-eating, milk-chugging antics The Chad will be getting into when Bachelor in Paradise premieres August 2.