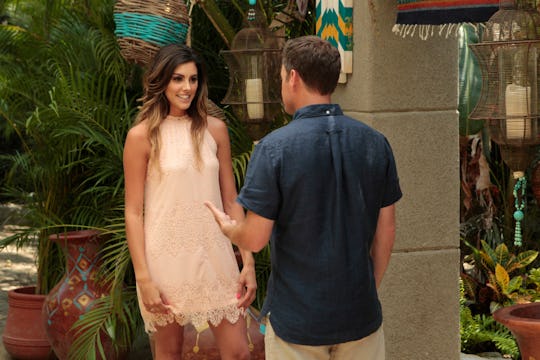 Rick Rowell/ABC
Will Chad & Lace Hook Up On 'Bachelor In Paradise'? They Definitely Have Chemistry
One of my favorite parts of Bachelor in Paradise every year is seeing how all of the contestants from various seasons – many of whom have never interacted before – get along with one another. Will friendships blossom? Will sparks fly? Will heads butt? Going into the third season, speculation about potential romances was high, particularly when "Hurricane Chad" Johnson, the villain from Bachelorette JoJo Fletcher's recently-concluded season, blew into Mexico. With the addition of Bachelor Season 20's occasional hot mess Lace Morris to the cast, many were instantly thinking that Lace and Chad would hit it off. But will Chad and Lace hook up on Bachelor in Paradise?
The lead-up to Paradise is always great for this exact reason. It's so fun to speculate about who will hook-up based on the personas we've seen in each of the contestants' respective seasons. It's basically crack-shipping made legit, and I'm so here for it.
Early signs in the season premiere all point to yes, full steam ahead with the good 'ship Chad/Lace. And side note: If we're 'shipping them together, would their couple name be Chalace? That's a beautiful portmanteau, isn't it? So they have that going for them, at least.
Almost immediately, the two had a connection (at least a physical one). Lace noted that the moment Chad joined the group during the introductions, she felt sparks with him. Chad, for his part, was impressed with all of the ladies, telling his Season 20 bud Daniel Maguire that the Paradise girls were a group of 10s. But he did introduce himself to Lace, in particular, right away.
Things progressed rather quickly, as both got quite aggressively drunk and unleashed their "Tropical Storm" natures on one another. They oscillated between raunchy seaside make-outs and slapping at one another, which was hilarious and sort of terrifying all at once.
Outside of the show, the two actually do have some things in common – beyond being prone to drinking just a bit too much and getting a little feisty. We all know Chad is a luxury real estate agent (he only mentioned it approximately 45 times during his four weeks on The Bachelorette), but according to her LinkedIn profile, Lace is also a realtor.
Of course, that all came to a screeching halt when Chad went "Full Chad" and insulted Lace, calling her a bleeped-out name, bringing their fun to a fast end. Their co-star (and Paradise Season 2 alum) Carly Waddell hilariously pointed out from the sidelines that Chad/Lace must have set some kind of record for shortest Bachelor Nation relationship ever – it all lasted a whopping two hours.
On the bright side, Lace didn't seem too broken up about Chad's insta-meltdown and apparent banishment from Paradise. Grant Kemp, Chad's fellow JoJo cast-off, also noticed Lace right off the bat and was obviously super attracted to her. The two are clearly forming a bond, and according to the promos, it seems like that bond will be the most important one for Lace this season (though, obviously, there will be bumps in the road there too).
Will the potential Chad/Lace romance overcome this early disaster? Or will Lace forget all about the volatile Chad once he's sent packing, and seek solace in hunky firefighter Grant? It remains to be seen whether Chad will ever find someone to gaze at as fondly as he gazes at deli meat.
Oh, Chad. Bro. Dude. If you wind up getting a second chance and make your way back to the Bach beach, you really need to get yourself together if you actually want to find love with a human person rather than a ham sandwich.