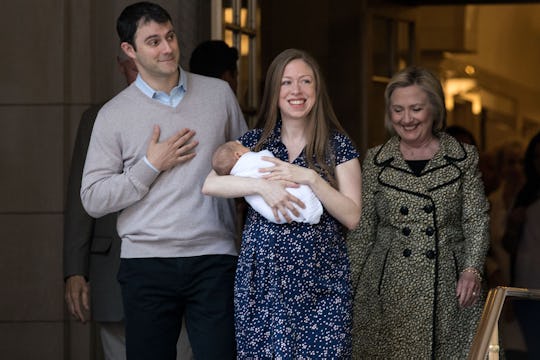 Drew Angerer/Getty Images News/Getty Images
Will Chelsea Clinton Bring Aidan To The DNC? She Takes Her Children's Privacy Seriously
When a former first daughter delivers a speech, it's likely she's got some powerful fans in the audience. Chelsea Clinton is set to introduce the potential first female President of the United States, Hillary Clinton, during the final night of the Democratic National Convention. Viewers may see cutaways to Clinton's husband, Marc Mezvinsky, and her dad, former President Bill Clinton, cheering her on from the audience. But for Clinton, the biggest VIPs could be her two kids, daughter Charlotte and new baby Aidan. Will Chelsea Clinton bring Aidan to the DNC? Fans will have their fingers crossed, but Clinton's implied commitment to keeping her family life private may mean she won't have both children in tow.
It appears that Clinton hasn't directly mentioned whether Charlotte and Aidan will see her speech in person, but a Daily Mail story published Tuesday showed Mezvinsky packing up the car and Charlotte walking with her mom to the vehicle. Aidan didn't seem to be with them, but that doesn't mean he won't put in an appearance at the convention; audience members may just have to wait until the event begins to find out.
Clinton welcomed Aidan into the world in June, according to People, and she released the first Clinton-Mezvinsky baby photo the day after giving birth. She captioned the image, "At 7:41 AM Saturday, our family and hearts expanded with Aidan's arrival. We are blessed." Clinton left Lenox Hill Hospital the following day, and photos showed Aidan in Clinton's arms, with Mezvisnky, Bill, and Democratic presidential nominee Hillary Clinton walking alongside the new mother. The public hasn't seen Aidan often. Clinton is protective of her newborn son and her daughter, who is not even 2 years old.
The DNC is a big, loud event with plenty of cheering and chanting; few babies could make it through the evening without bursting into tears, so it's unclear whether Aidan will actually get a seat in the arena. Whether Clinton's kids are present or not, though, they'll likely be on her mind. In Clinton's interview with Matt Lauer for TODAY, she said that motherhood is her major focus right now:
This election is so important to me, because I'm now a mom. And as proud as I am of my mom, this election to me is fundamentally about my children, about Charlotte and Aidan.
Clinton hopes to humanize her mom during her DNC speech, attempting to undo any damage done by the Republican National Convention's repeated argument that Hillary is "crooked." Though a lot rides on her words, Clinton told TODAY that she still expects her time in the spotlight to be a moving experience:
And so I think just standing there, thinking about my children and looking at my mom, I think it's going to be overwhelming.
The world will be watching to see if three generations of Clintons make an appearance tonight for the powerfully historic moment Hillary accepts the Democratic Party nomination.