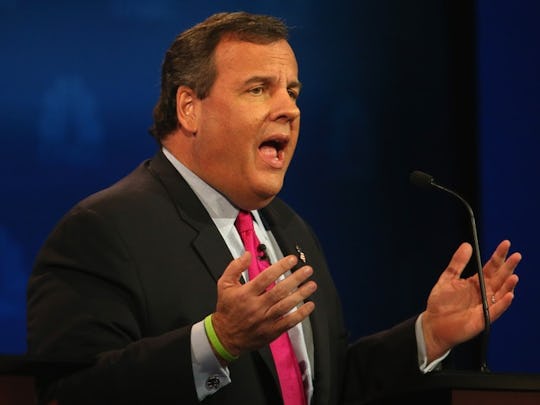 Robyn Beck/Getty Images
Will Chris Christie Be In The GOP Debate? Mike Huckabee & The New Jersey Governor's Presidential Hopes Are Looking Less Likely
After dwindling poll numbers, Chris Christie will not be in the main Republican debate on Nov. 10. He and Mike Huckabee were moved to the undercard debate, according to an announcement made Nov. 5 on "Lou Dobbs Tonight" by the Fox Business Network, co-host of the showdown. Both the New Jersey Governor and Huckabee didn't hit the network's criteria of 2.5 percent in the national polls to qualify for the primetime debate. So, for the fourth debate, anyway, Christie and Huckabee must sit at the kids table, which doesn't exactly bode well for the rest of their campaigns.
Christie's tweeted in response to the news Thursday with a message that tried to convey how unfazed he was by all of it. At the end, he closed it out with one simple hashtag: #BringItOn. Moments later, Huckabee echoed Christie's sentiment by saying he'd be happy to "debate anyone, anywhere, anytime," and was refusing to give up fighting for seniors, American workers, and their grandkids. But let's be honest — even thought Christie and Huckabee are each putting on a bold front about all this, it's impossible to get around it: Being demoted from the main debate stage isn't just a sign that voters aren't backing them; it's also just plain embarrassing.
Still, this demotion to the so-called junior varsity, or, mini-debate, shouldn't be too much of a shocker for either candidate, given how both performed in the last debate. To refresh your memory, Christie's big takeaway from the third GOP debate was that ISIS and al Qaeda are attacking the U.S. because we're all obsessed with fantasy football. Um, yea... 
And who can even remember what Huckabee even said in the third debate, other than he was wearing a Trump tie and that he's scared for his grandkids' futures? And because nothing about the race to the White House cannot not involve Trump, what did The Donald have to say about his opponents' downgrade? Nothing yet, but he tweeted to brag about his numbers, suggesting that he's got the GOP wrapped up and is angling towards the Democrats.
Image: Robyn Beck/Getty Images