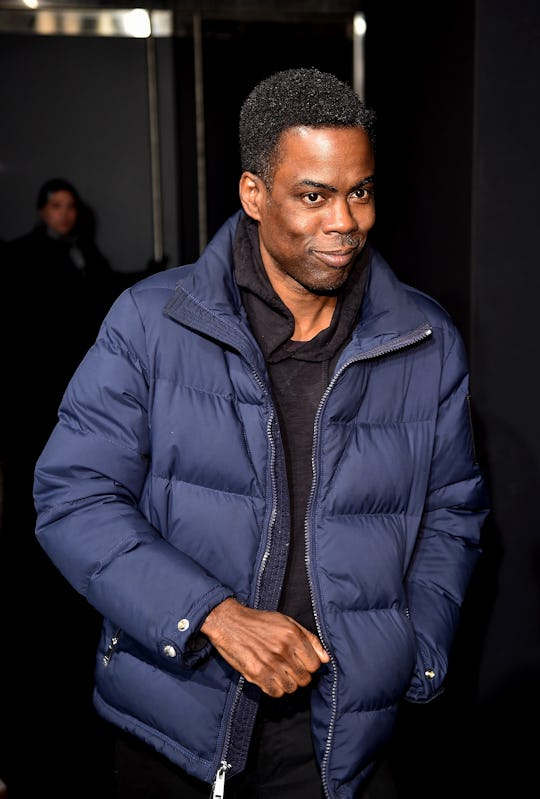 Dimitrios Kambouris/Getty Images
Will Chris Rock Host The Oscars Again? He's Ready To Take On The #OscarsSoWhite Controversy
Amid all of the backlash over the lack of diversity in the Academy Awards this year, it looks like Chris Rock will host the Oscars again, despite calls for him to boycott the show in support of the #OscarsSoWhite hashtag campaign. Rock, who has hosted the ceremony once before, doesn't just plan on showing up for the award ceremony — he's rewritten the entire show to address the Academy's diversity problem, giving a nod to peers such as Will Smith, Jada Pinkett, and even rapper 50 Cent, who had encouraged him to skip the whole thing altogether.
Oscars producer Reginald Hudlin told Entertainment Tonight that Rock had prepared the script for the show before the nominations, but after the outcry for him to boycott, Rock went back to the writer's room with his team. Hudlin said that viewers should expect #OscarsSoWhite jokes. "Yes, the Academy is ready for him to do that," Hudlin told ET. In defense of the Academy, Hudlin added that they were "excited about him" taking that position. "They know that's what we need," Hudlin said. "They know that's what the public wants, and we deliver what the people want."
He added that Rock is "just thorough" when it comes to delivering a good show. It sounds like Rock is ready to entertain and educate some viewers.
Rock is going to need to bring it. Hard. But viewers should have faith that he will. Rock has always been a provocative comedian and even off-stage is not shy about sharing his politics on social media. He recently tweeted an Oscar's promo with a joke about it being the "white BET Awards." He also posted an Onion headline about recently deceased Justice Antonin Scalia dying from a "30 year battle with social progress." Scrolling through his social media accounts, it's not hard to see that Rock is informed and and loaded with opinions.
Rock has never hesitated to riff on racial politics, America's political climate, or even political correctness in comedy. Simply put, Rock is all about politics of any kind. He's informed, insightful, and funny. There are lots of reasons to believe his Oscars show could be the most socially conscious event of the year.
It's possible that a good way to enact change, or even protest the lack of diversity at the Oscars, is to do it from inside the Dolby Theatre in Hollywood on Feb. 28. Ricky Gervais, who has also stirred controversy as the host of The Golden Globes, had the same thought, tweeting last month that "if [he] were Chris Rock", he wouldn't be worried about boycotting the show. Gervais noted that since the ceremony was being broadcast live, Rock could potentially "do some serious damage."
Of course, when it comes to establishment Hollywood and a mainstream awards show aired on a basic cable network, things could be, ahem, whitewashed. But there's also a very good chance that Rock will be able to speak his mind. The worst that the Academy can do is just not invite him back next year but that could be more harmful to their ratings than anything else.