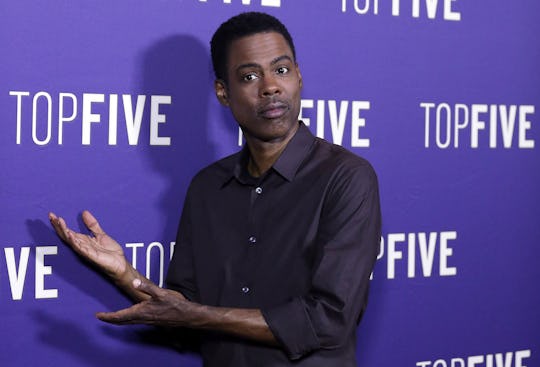 Will Chris Rock Talk About #OscarsSoWhite At The Oscars? It's Almost Inevitable
Once again, The Academy of Motion Picture Arts and Sciences is faced with a diversity dilemma. Specifically, this is the second year that the Oscars haven't had a single black nominee. And both the internet and the industry noticed. Director Spike Lee and Jada Pinkett Smith announced they would boycot the event. And now many people are wondering if the Oscars' black host and comedian, Chris Rock, will address the #OscarsSoWhite controversy at the Oscars. If his knack for inconvenient truths tells people anything, it's that he'll likely take on the charged topic in an ingenious, eye-opening way.
Academy president Cheryl Isaacs Boone addressed the debate in a statement on Wednesday, saying "While we celebrate their extraordinary achievements, I am both heartbroken and frustrated about the lack of inclusion. This is a difficult but important conversation, and it's time for big changes," Us Weekly reported.
Rock hasn't had much to say on the issue, since he tweeted, "The #Oscars. The White BET Awards," on Friday. And since Smith and Lee announced they're boycotting the Oscars, it has put an increasing amount of pressure on the 50-year-old to acknowledge the controversy.
But should those fervently hashtagging #OscarsSoWhite be worried that Rock will skate around the issue during the Oscars? In my opinion, not really. Looking back, he actually took to the Oscars stage years ago and tackled the race issue head on. When hosting the event in 2005, Rock's first line of his opening monologue specifically called attention to the lack of black nominees. "It's a great night tonight. We have four black nominees tonight. It's kinda like Def Oscar Jam tonight," he joked, according to a YouTube video of the monologue. And though it was in jest, starting out the night shining a light on an issue sent — and continues to send — the message that yes, this is a pertinent, pressing issue.
Rock has not only previously addressed the Oscars' diversity issue, but he's also discussed Hollywood's knack of erasing and stereotyping people of color. At the 2012 ceremony, Rock presented the award for Best Animated Feature and he had tons to say about the roles black people — and himself included — are assigned. While presenting, he didn't hold back about playing a zebra in Madagascar and Eddie Murphy playing a donkey in Shrek. He said, according to MadameNoire:
I love animation because in the world of animation, you can be anything you wanna be. If you're a fat woman, you can play a skinny princess. If you're a short, wimpy guy, you can play a tall gladiator. If you're a white man, you can play an Arabian prince. And if you're a black man, you can play a donkey or a zebra. You can't play white? My God!
Though it evokes a chuckle, Rock's comedy is just as funny as it is sad because people are still having the same conversation about the Oscars and Hollywood years later. While playing an animal in a cartoon isn't inherently offensive, a pattern of minorities not receiving elevated and empowering roles is. And minorities being snubbed when they go above and beyond is exhausting. So, do I think Rock will address the #OscarsSoWhite controversy? Yes, because he's already been doing it for quite some time, and that's both sad and gratifying.
Image: Mark Metcalfe/Getty Images Entertainment