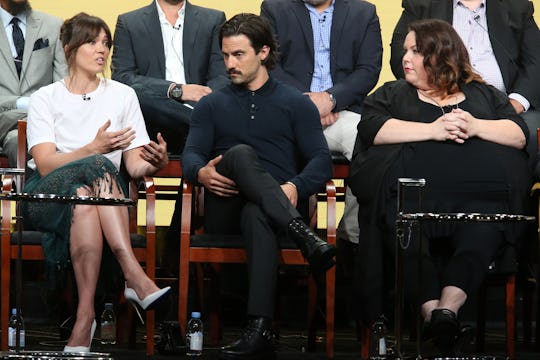 Frederick M. Brown/Getty
Will Chrissy Metz & Mandy Moore Sing Together On 'This Is Us'? It'd Be A Great Moment
On NBC's new drama This Is Us, Mandy Moore plays a harried mother of triplets, and Chrissy Metz plays the adult version of her daughter, a woman who has struggled with her weight since childhood. But these are not the only aspects of their characters. Metz's character Kate is also a talented singer, which her new boyfriend Toby recently tried to bring out by arranging a concert for her to perform at a retirement home. Since Moore is, obviously, a singer as well, will Chrissy Metz and Mandy Moore sing together on This Is Us? Perhaps this is a talent that's been handed down from mother to daughter.
We haven't seen adult Kate and her mother interact yet, but from the flashback scenes from her childhood it already looks like Kate has a stronger relationship with her father than with her mother. Where her mom tells her to eat the healthy cereal, Jack lets her fill up on the sugary stuff. Rebecca wants her to cover up at the pool, while her dad encourages her to wear her new CareBears bikini. Maybe singing and the two women's shared talent will be the thing that draws these two characters closer together. Because at the moment, it doesn't look like they have much in common.
Moore has often performed songs in her acting roles, which makes me think This Is Us will be no exception. She sang in The Princess Diaries, Saved, and, of course, A Walk to Remember. So it would be awesome if Kate and her mother got the opportunity to perform together as well. It could be a validating moment for their relationship as mother and daughter. Not to mention, it would also be really, really cute.
We've only seen Moore's character Rebecca in the present day once so far in the show, where the most intriguing part about her seemed to be that she is now married to Miguel, and Milo Ventimiglia is nowhere to be seen. She showed up at Randall's house, and the series has already taken pains to show that Rebecca's biggest struggles as a mother so far seem to be with him. It stands to reason that their relationship would be extremely close these days as well.
That being said, I'd love to see how the mother and daughter relationship progressed throughout the years, and maybe witness these two connect on a special musical level.