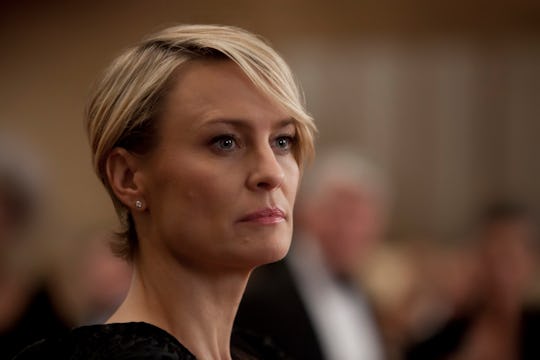 Will Claire Underwood Be On 'House Of Cards' Season 4? FU2016.com Adds Mystery To The Equation
You really didn't need another reason to watch House of Cards once it premieres on Netflix March 4. But then the binge-worthy series gave you yet another reason when it premiered House of Cards' first trailer of Season 4 during CNN's GOP debate — perhaps one of the shrewdest marketing moves in recent TV memory. (After all, who better to show up the remaining candidates than Frank Underwood himself?) But then Netflix got even more clever, launching Frank Underwood's campaign site, FU2016.com, and providing some clues for the season ahead. Like, for example, the fact that Claire Underwood might be missing from the upcoming season of the series.
I mean, of course Robin Wright will be there — the actress' IMDB page has her appearing on the show into 2016 and House of Cards Executive Producer Beau Willimon has already hinted at some Season 4 details that seem to indicate we will be watching "Underwoods" instead of just "Underwood." ("We know she's walking out," the producer told E! Online. "She says, 'I'm leaving you.' ...Whether it's completely broken, that's what we want people sucking on like a lozenge for however many months until we release the next season.") But she does seem to be missing from Frank's life, if FU2016.com is any indication. After all, click on a prompt to "Meet Claire Underwood," and you get the following:
So does that mean House of Cards — whose trailer came in the form of a campaign ad during the CNN debates — will feature Frank Underwood running for president solo? Seems that could be the case.
So what else do we learn from the site? Well, its news section confirms that Doug Stamper is Chief of Staff and is "rolling up his sleeves" (uh-oh), and that Frank Underwood is courting the youth vote on Instagram. Also, Frank likes "Progress. Forward Momentum. Getting Things Done." And by "things," he means "killing people," of course.
But, come on, everyone really just wants to know one thing: What will happen to the Underwoods? But did you really think you would get any answer except FU?
Image: Netflix; FU2016.com