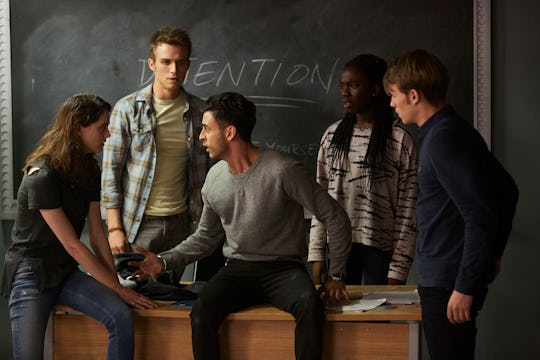 Simon Ridgway/BBC
Will The 'Doctor Who' Spin-Off 'Class' Remain In Session?
The fate of the Doctor Who spin-off Class is still up in the air, leaving many fans to wonder if Class will return for Season 2. Despite rumors that suggested the show had already been cancelled, showrunner Patrick Ness told Inverse that the fate of the Doctor Who spin-off has yet to be decided. So there's still hope that Class will continue to be in session. (Get it?)
Ness claimed the rumors of cancellation came because the first season of the show aired early in the U.K. while those in the U.S. still haven't seen the Season 1 finale. BBC America chose to hold the show in the U.S. so that it could air right after Doctor Who. Ness also added that they won't know the fate of the series until BBC "gauges the reception of American and international audiences."
However, Ness definitely hopes there will be another season and already has plans for how the show could continue on. "There's still lots of stories for us to tell, especially with that ending [of the first season]; so fingers crossed!" he said in the same interview. "We'd love for America to embrace it." He also added: "I've got some evil stuff planned. I've got some evil ideas. Make sure you tell people, there's evil stuff coming, so you need to watch."
American viewers don't even know what the Season 1 finale will bring yet, but it's clear Ness is setting up fans for a cliffhanger and his hopes for people to want more have already been realized. Fans have already begun a petition on Change.org for a second season of the sci-fi drama. Almost 4,000 people have already pledged their support, and that's before the first season even comes to a close in the U.S.
The show has also received great reviews and has been applauded for it's diverse cast, interesting characters, and crazy plot twists that perfectly crossover with the Doctor Who universe.
If you're unfamiliar with the show, it follows the day-to-day lives of the students at Coal Hill School, which has been a featured local in the world of Doctor Who. The students at Coal Hill School often find themselves caught up in adventures that go across space and time, whether they want to or not. The show stars Katherine Kelly, Greg Austin, Fady Elsayed, Sophie Hopkins, Vivian Oparah, and Jordan Renzo.
Fans can see the Season 1 finale of Class on Saturday, June 3 at 10 p.m. ET on BBC.