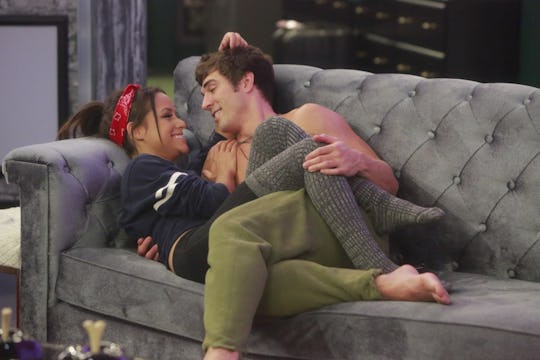 Bill Inoshita/CBS
Cody & Jessica Are Making Their Relationship A Priority After 'Big Brother'
At the start of Big Brother 19, it was clear there'd be a few showmances. However, there's only really been one that took center stage this season. Cody and Jessica have been attached at the hip since the very beginning and quickly became targets for the house. But now that Jessica has been evicted, one has to wonder if their relationship will actually last. Will Cody and Jessica break up after Big Brother 19 or can their romance stay strong outside of the house?
At the moment, it seems like Cody and Jessica may actually continue dating outside of the house. Now that Jess is back on social media, she's been using Twitter and Instagram to show her support for her man. Her cover photo on Twitter is a picture of herself and Cody and she constantly tweets about his gameplay. However, she's currently out in the real world and he's still playing the game. It makes sense that she'd continue to show her support for him since he's still in the house, but how will they handle it when this season comes to an end and they're both living outside of the house?
There willl be a lot of issues they'll have to consider. For one, Jess currently lives in Los Angeles, while Cody lives in Plano, Texas. That's about 1,500 miles standing between them and while they could certainly give the long distance relationship a try, it's difficult to really get to know someone when you live so far apart.
However, it seems Jess and Cody already have a plan for that. In an interview with Entertainment Weekly, she revealed the couple will be splitting their time "between Dallas and Los Angeles." She also mentioned that she promised Cody she'd take him and his five-year-old daughter, Paisley, to Disneyland, once the season is over.
However, that doesn't mean these two are rushing into anything. Jess also revealed to Us Weekly that she and Cody will be taking it slow. "Regarding marriage, let's take it one step at a time," she stated. "[I] definitely see a relationship forming outside of the house." She also mentioned that while she and Cody did have a few fights in the house, those fights were simply "petty" and they truly do care about each other.
Jess and Cody wouldn't be the first Big Brother showmance to actually make it last, but it is rare. Hopefully, it works out for them.