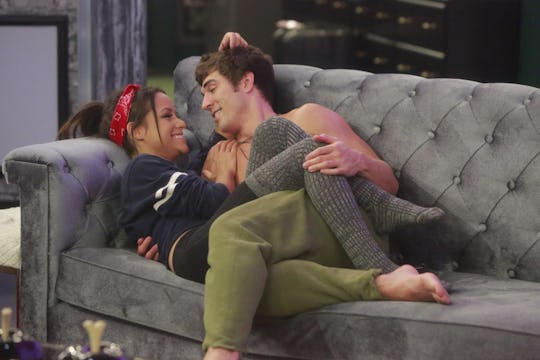 Bill Inoshita/CBS
Cody Just Made A Big Declaration About Jessica On 'Big Brother 19'
Well, that is certainly one way to get someone's attention. After getting eliminated (as many viewers probably figured he would), Cody confessed to Julie Chen that he has every intention of getting down on one knee in front of Jessica at some point. So will Cody and Jessica get married after Big Brother 19? It seems very, very possible.
Here's how the conversation went exactly. Julie came right out and asked: "Are you going to marry Jessica?" To which Cody instantly responded, "I will." And here's the kicker — he then proceeded to cover his mouth as if he just let something very big (and very real) slip. It's clear he didn't mean to say that on live television, but it's now out there in the universe and I'm sure there are plenty of Jody fans currently freaking out right now. I say that, but it's not just viewers who are having a significant reaction to what he just said.
Jessica herself, who was evicted from the house the previous week, has been keeping up with the live feeds and even live tweeting during the televised episodes. So you better believe she was watching when Cody made his big reveal, and she definitely has some thoughts on the matter...
OK, so I can't say with absolute certainty that she's referring to Cody's semi-proposal, but I mean — it was moments after he made that statement, so one can assume this was her reaction to Cody. And, as you may notice, it wasn't exactly a no.
Cody didn't go into specifics as to when he would propose or anything, so for all we know this could still be pretty far off into the future. But the idea is clearly on his mind. He's in this thing for the long haul. What's interesting though is that Jessica has already spoken on the matter of marriage during an interview with Us Weekly. "Regarding marriage, let's take it one step at a time," she told the outlet. "[I] definitely see a relationship forming outside of the house." So maybe we shouldn't start planning their wedding just yet. (Though I am 100 percent confident that no other Big Brother houseguests would get an invite.)
At the same time though, her reaction to Cody's revelation of marriage does come across as excited more so than anything else. She's also retweeted multiple tweets from fans who are excited for a Jody wedding. So I'd say that's a pretty good sign. Will this actually come to fruition? Who knows! A lot can change when you're out there in the real world. But considering how much the two care for each other, I'd say they've got a real chance of making it work.