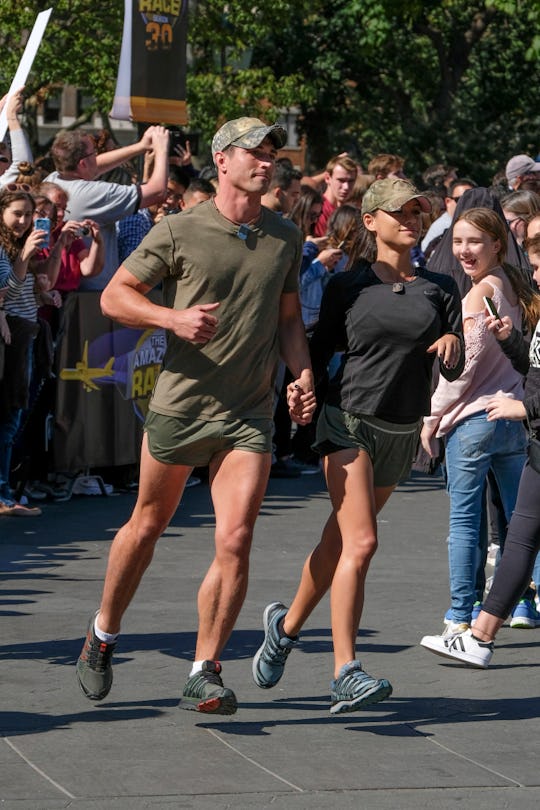 Timothy Kuratek/CBS
Cody & Jessica Have A Definite Chance Of Winning 'The Amazing Race' & Here's Why
An all-new season of The Amazing Race is finally here and there are a lot of interesting teams this season. One of those teams consists of Jessica Graf and Cody Nickson from Big Brother 19. Although neither won the $500,000 grand prize, Cody did walk away with $25,000 after being voted as America's Favorite Houseguest. But The Amazing Race isn't about being a fan favorite, it's about working together as a team and completing physical and mental challenges. So will Cody and Jessica win The Amazing Race? They certainly have a shot.
While there are definitely a number of reasons why neither Jessica nor Cody won Big Brother, the main one was that the house totally turned on them. It's hard to win a game where your fellow houseguests have the power to evict you and they all actively hate you. Of course, you could argue the reason the house turned on Jessica and Cody was because of their personalities or mistakes they made or any other reason, but what it boils down to is their social game was shot after the first week.
However, for The Amazing Race a social game isn't necessary to win. Jessica and Cody just need to be able to work together as a team to complete their challenges and really trust each other, something that should feel like second nature to them now, after having to rely on only each other for so long in the house.
Jessica and Cody, popularly known as "Jody," have complete trust in each other, which will definitely help them win this season. "He's exactly the man I thought he was... He can do everything and anything," Jessica told E! News. "It really just comes down to whether or not I can keep up." Meanwhile, Cody added that "[The Amazing Race] just confirmed and validated what I already knew about her."
Besides being the perfect team, between the two of them Jessica and Cody definitely have the skills to get through the physical and mental challenges. Cody was able to stay in the Big Brother house for so long and return to the game because he was great at the competitions. To return to the house alone, Cody had to win about five challenges and he did. Similarly, Jessica won a fair amount of challenges on her own as well, and had she followed her gut a bit more, they may have lasted even longer in the house. It's what made them both worthy competitors and will definitely help them in The Amazing Race.
In the past, Big Brother contestants that made their way over to The Amazing Race have had mixed results. Another showmance, Jeff Schroeder and Jordan Lloyd from Big Brother 11 & 13, placed seventh in their season of The Amazing Race, but Brendon Villegas and Rachel Reilly, a popular showmance from Big Brother 12 & 13, made it to the Top 3 of their season. Therefore, it could really go either way for Jessica and Cody, but they definitely have the skills to go the distance.
Their biggest issue will be that they're going up against a lot of great competitors this season. They'll be competing against a pair of firefighters, yoga instructors, X Games free skiers, retired basketball players, and more. The competition is definitely tight, but anything can happen in Season 30, which is a big milestone for the series. Perhaps there may even be some twists in the show this season, but viewers will just have to tune in and see.
Check out Romper's new video series, Romper's Doula Diaries:
Watch full episodes of Romper's Doula Diaries on Facebook Watch.