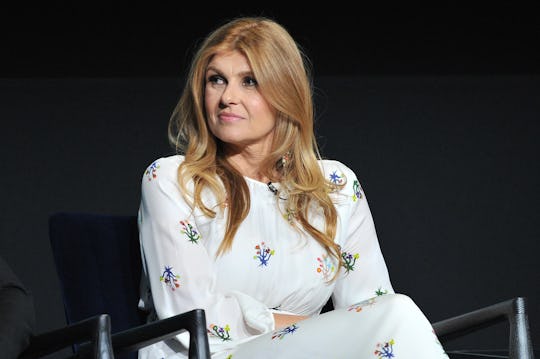 Allen Berezovsky/Getty Images Entertainment/Getty Images
'American Horror Story: Apocalypse' Will Bring Back The 'Murder House' Family
Connie Britton was one of the original stars of American Horror Story. She played Vivian Harmon in Season 1, but never appeared in another season. That made her one of the few actors who didn't recur once they had been cast in the show. But after it was announced that Season 8 would be a crossover between Murder House and Coven, it was natural to wonder whether Vivian would be back. So will Connie Britton be on AHS: Apocalypse?
Indeed she will. TheWrap was the first to report that Britton would reprise her role from Season 1, and it was later confirmed by People. It's unclear how extensive Vivian's part in the season will be, or what she's been up to in the intervening years; viewers will just have to wait and see when Season 8 debuts on FX on Sept. 12. When Season 1 ended, Vivian was living in the Montgomery house alongside her husband Ben, daughter Violet, and newborn son Jeffrey. They had all died within the walls of the house and were trapped there for eternity as ghosts, but strangely enough, it seemed to bring them peace for the first time.
Vivian had passed away while giving birth to twin boys: one was Jeffrey, who had been fathered by her husband; the other was Michael, who was conceived when Vivian was raped by the ghost Tate Langdon. Jeffrey died, but Michael was raised by his paternal grandmother. And it looks like Vivian's living son will play a major part in Season 8.
When Vivian found out she was pregnant on Murder House, she experienced unusual cravings for raw meat and organs. She began to suspect that the child she was carrying wasn't entirely healthy, which was confirmed by the medium Billie Dean Howard. Billie Dean claimed that Vivian's son would bring about the end of days because his father was a spirit and his mother a human. There's a chance that prophecy might come to pass in Season 8, especially because an adult Michael will be making an appearance, played by Cody Fern. If it was predicted that a character would cause the apocalypse, it stands to reason he might actually do it in a season called Apocalypse.
As Michael's mother, Vivian might be worried about how he grew up, particularly because he seems to be wreaking some serious havoc. Then again, it's possible that as a ghost, she's beyond those human concerns. However, back in Season 1, it was originally the plan for Ben to raise Michael as his own prior to Ben's untimely demise. Perhaps the ghostly Harmon family will try to intervene before Michael's misdeeds go too far.
Though it took several years for Britton to return to the series, Ryan Murphy was always hopeful that she would eventually reappear. As he told People, after pitching the idea for Season 8 to FX chief John Landgraf, he had a feeling everyone would be back. According to Murphy:
I want all of them. I want Dylan [McDermott], and Connie and Jessica [Lange]. They've all said — Kathy Bates, too — everybody who is involved in the show has always said, 'Yeah, that sounds like fun, let's get the band back together again.' So that is one of the reasons why the writing process of that season is taking longer because it's literally 25 people's schedules. But I'm hopeful they will all be back.
The scheduling difficulties could mean that Britton won't have a huge role in Apocalypse, especially since she may have had to film her upcoming Bravo series Dirty John as well. But it's really too early to tell. The extent of Vivian's appearance in Season 8 might be uncertain, but regardless of how long she's there, fans are sure to be glad that she's back.