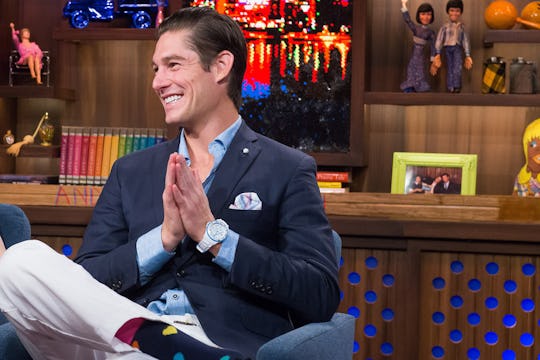 Charles Sykes/Bravo
Will Craig Conover & Naomie Olindo Get Married? The 'Southern Charm' Couple Just Might
New season of Southern Charm, new season of Craig Conover. After a couple of seasons of fun, it seems like Craig now wants to share his fun with someone else. That someone is Naomie Olindo, Craig's girlfriend on Southern Charm. As we've seen since the premiere of the show, Naomie and Craig have moved in together and are becoming a Real Life Couple. On Monday's episode, Craig went engagement ring shopping — scratch that — "promise ring" shopping, which begs the question, will Craig and Naomie from Southern Charm get married?
For the record, promise ring shopping is very different from engagement ring shopping. Personally, a promise ring sounds like something a high school boyfriend gets his girlfriend to say they'll be together forever in a movie that you know is going to end in heartbreak, but that's neither here nor there. Craig's promise ring seems to hold a bit more weight, with a little less commitment than an actual engagement ring.
On Bravo's live talk show Watch What Happens Live, Craig told Andy Cohen what his plans were regarding his relationship with Naomie, and as a fan, it's certainly a promising answer.
"When I learn to ask her dad in French," Craig told Andy Cohen when asked when he would propose to Naomie. "Which will probably take another year." OK, so it's not immediate, but it's progress, right? Remember, just last year Craig was a party boy who had an on-camera spit take, so he's come along way. Plus, he's come a long way with a cool girl like Naomie, so while they're not getting engaged right away, things could be a lot worse.
Naomie and Craig originally met in college. Though Naomie was a bit younger than Craig, the two reunited after graduation, and have been together since. They're the quintessential Instagram couple that you kind of hate, but secretly love, because just look at how adorable they are together.
Hopefully the two stay together so we can have a Southern Charm Season 4 engagement and a Southern Charm Season 5 wedding. That's right. I just signed Southern Charm on for two more seasons. You're welcome.