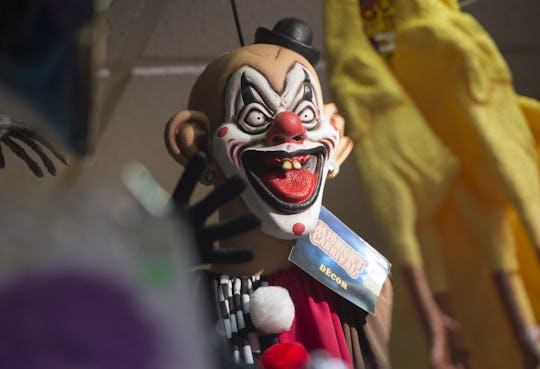 SAUL LOEB/AFP/Getty Images
Will Creepy Clown Sightings Affect Trick-Or-Treating? Halloween Just Got Scarier
The phenomenon began in August in Greenville, South Carolina. A small boy ran to his mother after seeing two clowns crouching in the woods. They whispered to the boy. They wanted him to follow them to an abandoned house in the distance. From this first sighting, the hysteria spread to other parts of South Carolina, then North Carolina, Florida, Kentucky, and now, reportedly, all over the world. With Halloween just around the corner, concerned parents and citizens are beginning to ask an unfortunately apropos question: Will creepy clown sightings affect trick-or-treating this year?
In some parts of the country, it appears that the answer is "yes." According to an admirable Rolling Stone summation of the creepy clown crisis by reporter Suzanne Zuppello, "some officials are worried there will be a violent end to the clown sightings." The concern is for the clowns themselves, as well as for the clowns' alleged victims. "Officials are concerned with the terrified people who may have a conceal-carry permit for a gun, or for vigilantes actively seeking to end the clown problem on their own," Zuppello wrote.
In late September, a 16-year-old boy who had been wearing a The Purge style clown mask was allegedly stabbed to death by a 29-year-old man, according to The New York Post. The same Post article argued that "the clown catastrophe has hit New York City and its suburbs like a toxic pie in the face." Reportedly, a 16-year-old in Manhattan was chased through a subway station by a person holding a knife and dressed as a clown, and two school districts in Long Island were placed on lockdown following "clown-related" social media threats and sightings.
In this context, it's easy to see why dressing up as a clown this Halloween might be a risky decision. Indeed, the school district in New Haven, Connecticut has asked schools to ban clown costumes, along with "any symbols of terror," according to The Washington Post. In Roselle Park, New Jersey, the police issued a warning to parents, urging them to "avoid dressing their children in clown costumes" due to "concerns that Halloween will bring more panic and chaos surrounding clowns," as reported at Pix 11, a local CW affiliate.
"My sisters didn't go to school today and said they don't want to go trick or treating this year because of clowns," Marquis Pellerin, a resident of Springfield, Massachusetts, told the American International College's student newspaper.
It appears that despite discouragement from local school districts and law enforcement officials, sales of clown masks are up. According to The Pasadena Star-News, the national chain Halloween Express reported a 300 percent increase in clown mask sales. That doesn't bode well for a peaceful ending to the creepy clown epidemic.
Last week, hundreds of students at Pennsylvania State University organized a clown-capturing mob. They captured no clowns, and Mike Nelson, the campus' police sergeant, told Centre Daily Times that "social media" was behind the unsubstantiated clown sightings that prompted the incident. "If there were any clowns... we would have ran into it," he said.
In the first week of October, hundreds of clown scares erupted at high schools and colleges across the country, according to The Washington Post, including a Snapchat video that led to widespread panic at James Madison University in Virginia, and a lockdown at a high school in Prince George's County, Maryland, following a clown-related Instagram threat.
For all of the reports, few clowns have been caught. The incidents are generally traced to prank social media postings, though at least a dozen arrests have been made since the beginning of the clown scare in August, according to CBS News. These arrests include five juveniles in Alabama who face felony charges for making terrorist threats, including one young man who posed online as "Billy the Klown" and threatened to "shoot up" a middle school, according to the local Alabama news site AL.com.
In some cases, the clowns have moved from online harassment to direct physical intimidation. Two teens in Virginia were arrested for chasing children whilst donning clown costumes, according to Rolling Stone, and CBS News reported that in San Francisco, a woman fought off a clown who grabbed her one-year-old daughter. NPR reports that in Abilene, Texas, a man was held at gunpoint by a clown-dressed man carrying a rifle.
Meanwhile, the sizable professional clown community is understandably terrified. "I've been flipped off, I've been booed, I've had trash thrown at my car, I've been experiencing excessive profanity while performing," Justin Brodie, a professional clown, told CBS News.
Professional clowns will surely be working hard to reestablish the clowns' reputation as the friendly goofs they were meant to be, but as for this year's Halloween? It's probably a lost cause.