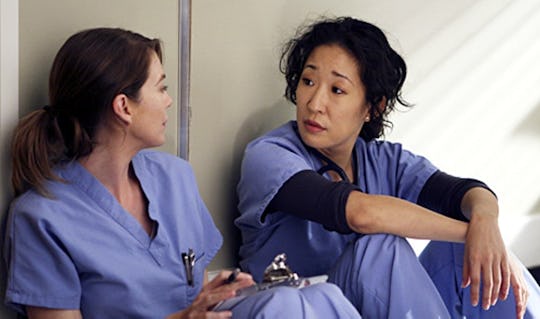 ABC
Will Cristina Yang Return For This 'Grey's Anatomy' Milestone?
It's almost unbelievable that the 300th episode of Grey's Anatomy is here. The medical drama has made fans laugh, cry, and dance it out for over a decade and this milestone is quite the accomplishment for show creator Shonda Rhimes and the cast. However, as the 300th episode nears, fans can't help but get nostalgic about the show's beginnings. The 300th episode will bring George and Cristina lookalikes to Grey Sloan Memorial Hospital, but is it possible the real Cristina Yang will return for Grey's Anatomy's 300th episode? Fans certainly hope so.
Ever since Cristina (played by Sandra Oh) left the series after Season 10, fans have desperately been wanting her to come back. However, Oh has said over and over that she has no intentions of returning to the show, at least for now. But fans just can't give up hope, especially after she was name dropped in the premiere episode of this season and Teddy Altman, one of Cristina's mentors, returned. Still, executive producer Krista Vernoff want fans to know Cristina is definitely not going to be in the 300th episode.
"I would give anything for a visit from Sandra Oh," she told TVLine. "[The 300th episode] would be a fine occasion for a visit, but it's not happening. So I don't want people imagining or hoping it will and then being disappointed." But while Cristina won't be popping up in this week's episode, that doesn't mean she'll never return. "Sandra may one day come back for the end [of the series] or something, but she's not coming back this season," Vernoff continued.
As much as I'd love to believe Vernoff is just pulling the wool over our eyes so that we're very surprised when Cristina pops up, I think Grey's fans will just have to accept that Cristina really isn't coming back this season. To add insult to injury, Vernoff confirmed that Callie (Sara Ramirez), won't be coming back for the special episode, either. Callie left the show after Season 12, when she moved to New York with her girlfriend, Penny, and daughter, Sofia, who Arizona recently revealed is moving back home to live with her in Seattle.
"If she would come back, I would be thrilled to have her. But she's got a very busy life in New York," Vernoff continued.
Even though Cristina and Callie won't be in attendance for the 300th episode, that doesn't mean it won't be any less spectacular. The preview alone contained enough nostalgia to make fans excited for the monumental episode, and there's still a chance that familiar faces, like the real George, could show up. Although George is dead, it wouldn't be the first time a ghost dropped by the hospital. Plus, T.J. Knight, who played George, recently had a short stint on The Catch, another Shondaland production. Therefore, it wouldn't be all that surprising if they reached out to him to come back for the episode, even if it's only for a brief moment.
Fans are also hoping for a Izzie name drop or reference in the episode. Alex's ex-wife is not mentioned often on the show, presumably because of the fallout Katherine Heigel had with Rhimes. It would also be nice to see a mention of the number of characters that have been killed off the show over the years, mainly Derek, Lexie, and Mark.
Thankfully, fans won't have to wait much longer to see what the 300th episode has in store since it will air on Thursday at 8 p.m. EST on ABC.
Watch Romper's new video series, Romper's Doula Diaries:
Check out the entire Romper's Doula Diaries series and other videos on Facebook and the Bustle app across Apple TV, Roku, and Amazon Fire TV.