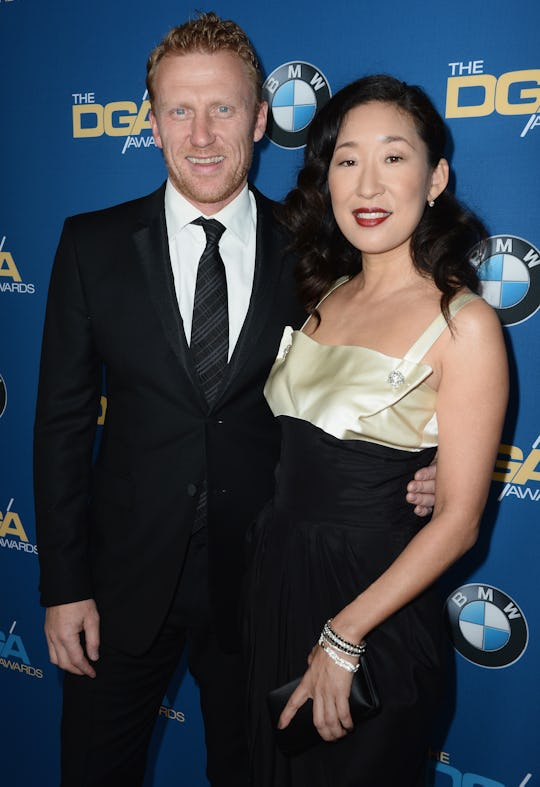 Frazer Harrison/Getty Images Entertainment/Getty Images
Will Cristina Yang Return To 'Grey's Anatomy'? Rumors Have Been Swirling All Season
While the hearts of Grey's Anatomy fans collectively broke over news that Sandra Oh had decided not to renew her contract after 10 seasons with the show, there is one perk of the amicable split: she's available for triumphant cameos! Rumors have been swirling since her Season 10 exit that Oh might return for a guest spot, especially since Meredith has been having a particularly rough go of things lately. As much as she might be craving her person, will Cristina Yang return to Grey's Anatomy?
There's only one episode left in Season 12, so if she is, then the finale is her shot. Fans expected Dr. Yang to return for Derek's funeral, and while that scene ultimately featured a Yang body double sitting next to Meredith, Sandra Oh wasn't actually available to film at the time. (She's been enjoying a vibrant theater and indie film career since her network primetime departure.) Then, there was speculation that she would return for the two-part, mega-hyped, Denzel Washington-directed episode where Meredith was attacked mid-season. Because what better time to rush back from Switzerland to your bestie's side than when she's been beaten within an inch of her life by a patient suffering a psychotic break?
But in the absence of Cristina returning during either of those moments, we really only have the finale left to pin our hopes and dreams on. For her part, Sandra Oh has always stressed that her reason for leaving the show was solely creatively motivated. She felt she had given all she could to a character she played for 10 years and was ready to move on, with an open understanding that she would come back when duty called.
"I told [showrunner Shonda Rhimes], 'If you guys want to finish it out however you want to finish it out, I'd be more than happy to come back,'" Oh said in an interview. "I just want you to know that I'm available."
The understanding is that she'll happily return for the eventual series finale, but in April of this year, the LA Times asked about the hints that she may be returning even sooner. Her coy reply? "I love that there are rumors."
It sounds like that's the most we're going to get before the finale on Thursday, and while Oh is often photographed with her former Grey's Anatomy co-stars (each time sparking new rumors), it's difficult to believe that the show and the network wouldn't hype a Cristina Yang appearance for weeks prior to the episode airing. The ratings boost they'd enjoy promoting her appearance far outweighs the likelihood of them striving to cover up a surprise return right up until the episode airs.