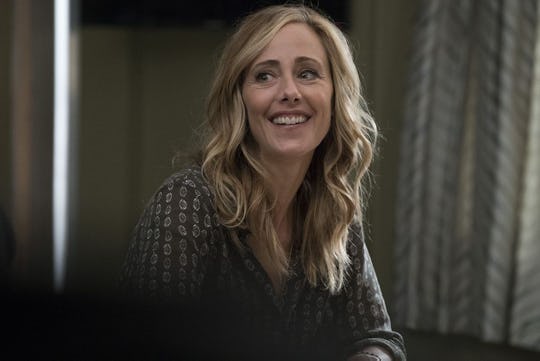 Richard Cartwright/ABC
Teddy's Return Has 'Grey's Anatomy' Fans Hopeful For Another Surprise Visit
The Season 14 premiere of Grey's Anatomy brought back a familiar face. Teddy Altman, who hasn't been seen since the Season 8 finale, came back to support her best friend Owen Hunt after his long lost sister, Megan, returned. However, Teddy's reappearance has fans wondering will Cristina Yang return to Grey's Anatomy Season 14? After all, if Teddy can come back after all this time, why not Cristina?
Unfortunately, the odds of Cristina coming back to Grey's is slim. There's been absolutely no news of a Cristina return and thus far Sandra Oh, who played the iconic character, has been playing coy about whether or not she would return to the show. That being said, it wouldn't be surprising if the show wanted to keep a Cristina return under wraps. This is something fans have been wanting pretty much since Cristina left, and it'd be a nice surprise for fans if she just showed up.
Additionally, this season does contain the 300th episode of Grey's. What better way to celebrate than to reunite Meredith with her person? It'd be a great moment and something fans wouldn't be able to stop talking about. Plus, Oh hasn't said she'd never return to Grey's.
According to Popsugar, Oh simply said in an interview that she doesn't think she'll return to the popular medical drama. However, she then backtracked, saying she might return for the series finale. "I just don't know. It would just have to feel right," she said. Still, the series finale is (hopefully) not happening in Season 14, so even if she does return for that, it won't be in Season 14. Even though Cristina herself may not make an appearance this season, she was referenced in the premiere episode.
Just before Teddy ripped into Meredith for working on Megan without being honest about her relationship with Riggs, Meredith was reading an article Cristina wrote about some new awesome procedure she did. If you recall, Teddy is also a cardio surgeon and the reason she first came to the hospital was because she was a gift for Cristina. Cristina needed a new cardio teacher; in came Teddy. Thus, Meredith probably hoped Teddy would be proud of her protege. However, Teddy was a little too upset with Meredith to be excited about Cristina's success.
Although Teddy didn't care about the Cristina mention, fans sure did. While it probably doesn't really change the odds of Cristina coming back to the show, the little callback was enough to make fans believe there's at least a chance. Whether or not it happens, there's no reason not to be hopeful. With Grey's, you never know what can happen.
Even if Cristina doesn't come back, there's still a long list of familiar faces that fans would love to see come back on the show. Stephanie just left, but fans already miss her, as does Jo who's currently looking for a best friend replacement. Also, Stephanie would probably be better equipped to help Amelia with this very risky case she's about to take on better than DeLuca. Better yet, she'd probably be able to convince Amelia that this surgery is a terrible idea.
Others would also like to see Callie come back, specifically without Penny. Although Callie and Arizona went through a lot of drama together, including a terrible custody battle, many are still hoping "Calzona" makes a comeback some day. Additionally an Izzie return would also be an interesting twist, though that seems even less likely than Cristina coming back; Katherine Heigel, who played the character, didn't leave the show on good terms with show creator Shonda Rhimes.
The wish list for returning characters is long, but with Grey's still going strong and hopefully even more seasons in it's future, you never know who could scrub back in some day.
Watch Romper's new video series, Romper's Doula Diaries:
Check out the entire Romper's Doula Diaries series and other videos on Facebook and the Bustle app across Apple TV, Roku, and Amazon Fire TV.