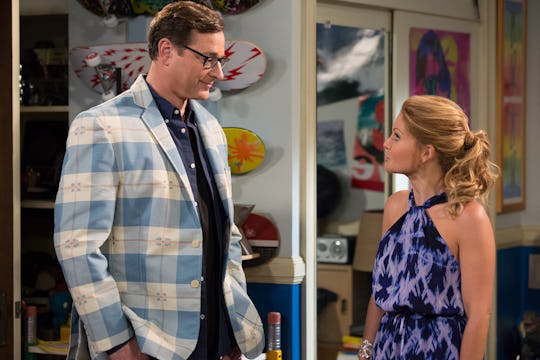 Michael Yarish/Netflix
Will Danny Tanner Be In 'Fuller House' Season 2? Bob Saget Appears In The New Trailer
When Fuller House was announced last year, it initially wasn't clear just how closely the new show would connect with the original series, Full House. The first season of the follow-up quickly established that the new show would parallel the '90s classic in more ways than one, with recently-widowed D.J. Tanner inhabiting the role her father had held 20 years earlier. One of the best parts of the first season was seeing the Tanner kids (and Kimmy) interacting, as adults, with the older generation — and especially with Bob Saget's patriarch, Danny. But will Danny Tanner be in Fuller House Season 2?
The fact that virtually every major cast member from the original series returned for the revival — with the notable exception of Mary-Kate and Ashley Olsen declining to return as youngest Tanner sibling Michelle — proves just how beloved this show was. Each actor slipped right back into their iconic roles easily, and the familial chemistry between the group was perfectly reminiscent of the vibe that made the original series something special back in the day. Watching the first season of Fuller House, it was incredibly obvious just how much the original cast members loved being a part of Full House. That made it no surprise that so many of them have chosen to return once again for Season 2 of the series.
While Jodie Sweetin, Candace Cameron Bure, and Andrea Barber (and, as of Season 2, Scott Weinger as Steve Hale) were the only three original Full House cast members to return for Fuller House as series regulars, several of the other actors each appeared in recurring or guest star capacities for a handful of episodes. That's set to be the case once again for Season 2.
On top of that, Saget appears in many of the behind-the-scenes photos that he and the rest of the cast shared while they were filming Season 2 over the summer, so it's clear that he'll be appearing in the new batch of episodes in some capacity.
The scope of his participation in the second season — whether he'll remain a guest star or appear in an expanded role — will remain unknown until the series actually premieres on Dec. 9, but the trailer hints that Danny Tanner will have at least one prominent storyline.
Based on the preview for the new season, it seems like Danny (who shows up at the house in a very distinctive get-up and with a new penchant for using very un-Danny-like slang) is set to experience some kind of mid-life crisis. But that's nothing a little Tanner family love can't cure!