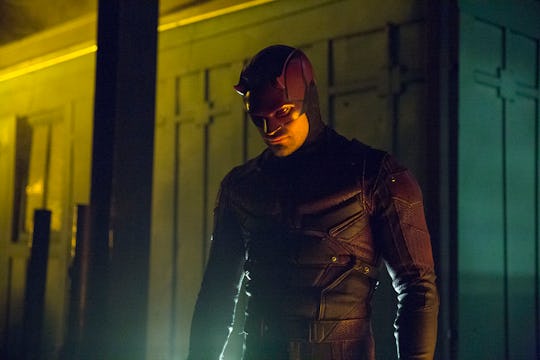 Patrick Harbron/Netflix
Will Daredevil Be In 'Luke Cage'? The Two Need To Join Forces
Keeping track of the timelines in the Netflix/Marvel shows can get a bit tricky. It all began with Daredevil's first season and the Marvel Cinematic Universe that Netflix has flag shipped has greatly expanded into Jessica Jones, the upcoming Luke Cage series, Iron Fist, which is set to release in 2017, and The Defenders, which is also coming in later 2017. The Defenders will bring together the four superheroes of the other shows and it'll be interesting to see how everything ties together. For now fans are wondering if Daredevil will appear in the Luke Cage series.
Right now everyone is keeping a closed lid on which, if any, of the other Netflix/Marvel superheroes will make an appearance in Luke Cage. One thing we do know, however, is the second season of Daredevil does cross with Luke Cage, time wise anyway. During an appearance at the Wizard World Chicago this summer, Daredevil star Charlie Cox revealed how Luke Cage falls into the rest of the Marvel timeline and how Rosario Dawson who plays Claire Temple connects the two shows.
"One thing that I thought was really cool is that in the second season [of Daredevil], we had a scene together and in the storyline we hadn't seen each other for a long time and it takes place at the hospital," Cox said, according to CBR. "Claire Temple has a cut in her eyebrow. So I was like, 'What is that?' Apparently it had nothing to do with our world but it's part of Luke Cage. The timeline had been thought through and worked out so that whatever's going on in Luke Cage, which we don't know, I don't know, somehow at some point during that show, the next day she's in the hospital talking to me."
It's no surprise that Claire will also be in Luke Cage. Claire also appeared in Jessica Jones and it was Claire that healed Luke after Jessica was forced to shoot him while he was under the control of Kilgrave. Claire has become the connection between all the shows and it wouldn't be surprising if she also makes an appearance in Iron Fist and there's no doubt she'll be in The Defenders.
Besides Claire though, it's unclear who else may drop by Harlem and visit Luke Cage. It would be fun to see Daredevil and Luke Cage team up though, and it'd be a great introduction to what we'll see in The Defenders.
You can watch Luke Cage beginning on Sept. 30 on Netflix and see just who pops up in the new Marvel series.