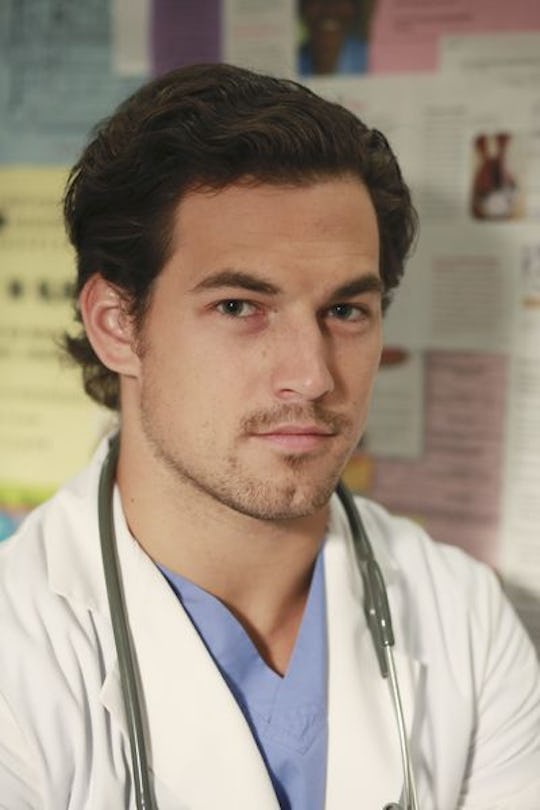 Ron Tom/ABC
Will DeLuca Live On 'Grey's Anatomy'? Season 13 Returns With Him In Grave Condition
When we last left our heroes at Grey-Sloane Memorial, DeLuca was just helping a very drunk Jo out of her clothes and safely into bed, when Karev barged in, assumed the worst, and started punching DeLuca's lights out. Literally. The Season 13 promo shows DeLuca being rushed to the hospital looking severely effed up, and Alex panicking over getting caught. Only Meredith seems to know he did it, but it's not exactly unnoticeable that Karev is hiding his bloody knuckles under surgical gloves. So will DeLuca live on Grey's Anatomy? Luckily, yes, but as Ben ominously reveals in the promo, "Whoever did this just ended his career."
DeLuca is unconscious and it looks like most of his injuries are to the head, with a bandage over one eye. It seems like a concussion and other head trauma are what's causing the bulk of the medical scare, though it's possible that what Ben is referring to is some loss of vision. But Shonda Rhimes assured Entertainment Weekly that DeLuca pulls through, if for no other reason than so we can have an excuse to flesh out his character. Said Rhimes:
"We're going to get to know DeLuca a lot better, who we don't know at all, and who we've just started to scratch the surface of. Now, because this thing has happened to him, he has found himself in a spotlight that he was not interested in ever being in."
Jo and Alex have been on the rocks most recently (because have they ever been anywhere else? Are there calm waters to be found literally anywhere in Seattle?) because Alex wants to get married and Jo keeps shutting him down. In a last ditch effort to save their relationship, Jo offers to have a baby with him to prove she's all in — she just doesn't want to get married. Alex doesn't buy it and breaks up with her. He's ready to be a grown-up (or at least, he's ready to pretend like Izzy wasn't his OTP), and thinks marriage is the way to be grown.
We don't learn this till later, when Jo is wasted and drunk-confessing to DeLuca in Joe's Bar, but the reason she can't marry Alex is because she's already married to a gross and abusive dude from her checkered past who she's afraid will come find her if she tries to file for divorce and gives up her location. Jo, as we learn, is not even her real name. DeLuca, clearly overwhelmed by this information, but tasked by Steph to ensure Jo's safe journey home, does his internly duty and tucks her in, only to get busted by Karev (in all senses of the word). But in spite of his rocky start to this season, it sounds like we'll be getting to know DeLuca a lot better soon. Karev's fate is less clear.