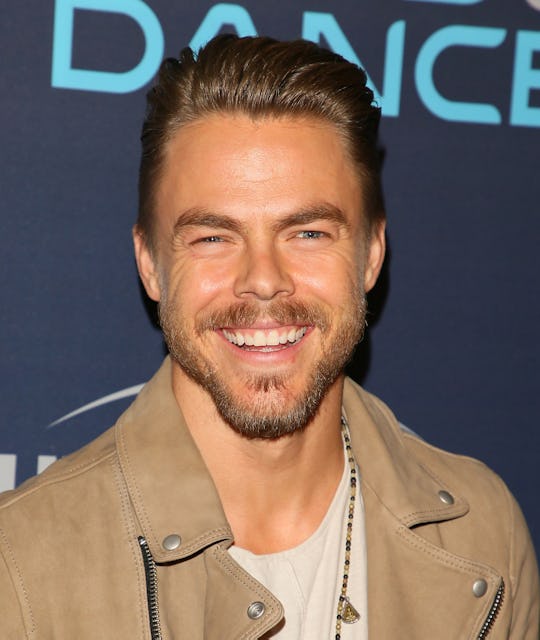 JEAN-BAPTISTE LACROIX/AFP/Getty Images
Derek Hough's Absence From 'Dancing With The Stars' Hasn't Gone Unnoticed By Fans
It looks like Season 25 of Dancing with the Stars is going to be completely Hough-free, which is putting me in a bit of a huff (I'm so sorry. I had to). First Julianne is taking a break from judging this season and now Derek is also MIA. But does this mean forever? Will Derek Hough return to Dancing with the Stars? He hasn't said anything about future seasons yet, but he's been down for the count for the past few years — much to the chagrin of dancing fans everywhere. What even is Dancing with the Stars without the world's favorite blonde dancing siblings?
Hough has been a part of the Dancing with the Stars family on and off since he joined as a full-time dancing pro in Season 5 way back in 2007 — that's right — 10 years ago. Since then, he has been a Mirrorball victor a grand total of six times, the most of any of the other pros. Basically, if you want to win this thing, you better hope you're paired with Derek Hough. Of course, now that he's gone, perhaps some of the other dancers have a fighting shot to take home the gold, or er, mirrorball. While Hough hasn't been a part of every season, he always seems to find his way back to the ballroom eventually.
Earlier this summer, Hough was judging another televised dancing competition, World of Dance on NBC. His fellow judges included Jennifer Lopez, Ne-Yo, and Jenna Dewan Tatum. But this show is hardly like Dancing with the Stars Part 2. This program gathered professional dancers from all different age groups doing all different kinds of styles from all over the world to compete for a $1 million prize and the chance of a lifetime to launch their entertainment careers. It's like American Idol but with dancing. And bigger.
So far, Hough has remained pretty coy about whether or not he'll ever return to Dancing with the Stars though. He's taken time off for various projects before, so perhaps his return to the show simply depends on what else is happening in his schedule. In an interview with Entertainment Tonight, Hough said that he'd definitely come back for Celine Dion, who was rumored to potentially be joining the show. "That's legend status," he said. True enough, Derek Hough.
Us Weekly reported that Hough didn't out and out say that he'd never be returning to the Dancing with the Stars ballroom, only that he's not ruling it out. "I will never say never," Hough said to the outlet. "Listen, I'm an advocate for dance and I'm an advocate for entertaining. I'm an entertainer. I'm here to serve. I'm here to serve the audience and to create stories and to serve the world of dance. So any way I can help, I'll be happy to do it."
I'm no expert, but that sounds a lot like Hough saying yes, he will probably be back to Dancing with the Stars at some point or another, if not right now.
As for Hough's sister, Julianne, she's been even quieter than he has with regards to a potential return to the show. Julianne Hough is just as much a part of the show's DNA at this point as her brother and has acted as both a judge and a pro. Like her brother, she is not a part of Season 25. Recently married and working on other projects, Julianne has not given any indication that she'll return to the popular series for Season 26 either. Does this mean we could potentially be Hough-less for the rest of Dancing with the Stars history? Never say never.
Watch Romper's new video series, Romper's Doula Diaries:
Check out the entire Romper's Doula Diaries series and other videos on Facebook and the Bustle app across Apple TV, Roku, and Amazon Fire TV.