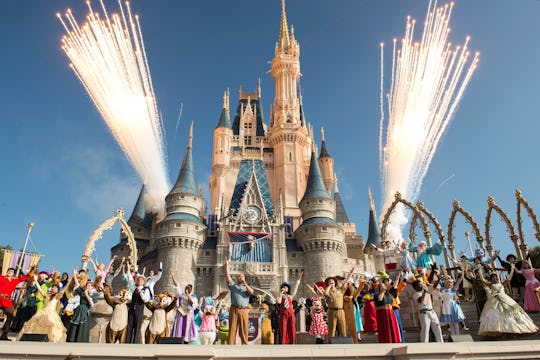 Handout/Getty Images Entertainment/Getty Images
Disney World Will Allow Guests To Reschedule For The Hurricane
Hurricanes are no joke — especially when they threaten to hit one of the most popular family vacation destinations in the world. Disney World is in the path of Hurricane Irma, a category four hurricane threatening to impact the millions of people living (and visiting) the state. So it isn't a surprise that Disney World has decided to close the park in anticipation for the storm. But for the thousands of people who visit Disney World each day have probably wondered if Disney World will give refunds for Hurricane Irma.
As previously stated, Disney World announced this past week that its theme parks inside the park would be closed on Sunday, Sept. 10 and Monday, Sept. 11 in anticipation of the storm's arrival. The hotels, meanwhile, are still operating. This is the fifth time that Disney World has ever closed since opening in 1971, according to Time.
But with Disney World being in Orlando, Florida and right on the East Coast they already have a hurricane policy in place for their guests for when storms like Irma blow through and guests with tickets can't make it to the park. And luckily, Disney World offers refunds and reschedules (without fees) for those with travel plans impacted by Hurricane Irma.
According to Disney World's Hurricane Policy, those who booked their trip through Walt Disney Travel Company can reschedule or cancel their trip without a fee. If you booked your trip to the park through a travel agent, Disney World advises to contact your agent first for any cancelation or rescheduling information. All dining reservations for these two dates have been automatically cancelled and all pre-paid dining and premium experiences will be cancelled and refunded, according to Disney World's website.
But really, if you have any questions about getting a refund or rescheduling your trip, the best thing to do would be to talk to someone at Disney World yourself. Anyone can call 407-939-7675 with questions about their plans or chat with a Disney World representative about Hurricane Irma's impact on their vacation online.
There are a lot of people that will be impacted by Disney World closing — Disney's World's Magic Kingdom saw 20.4 million visitors during 2016. But this storm is not something that tourists or Orlando residents want to stick around for. On Friday, Florida Gov. Rick Scott urged residents to leave the state immediately, while the roads were still clear. "If you're in an evacuation zone, you've got to get out; you can't wait," Scott said during an appearance on Good Morning America. "This thing is coming. It looks like it's going to go through the middle of our state."
Going to Disney World and staying in Orlando during the storm isn't worth the risk; luckily, Disney World's hurricane policy is top notch.