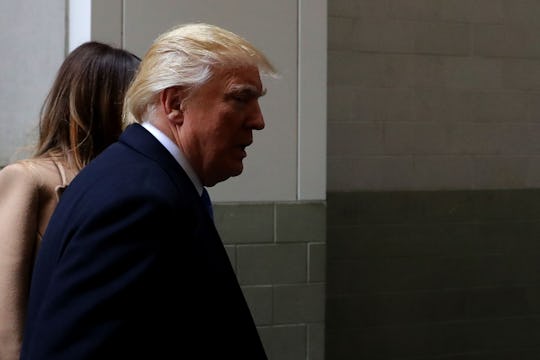 Chip Somodevilla/Getty Images News/Getty Images
Will Donald Trump Ban IUDs? Probably Not, But He Would Make Them Much Harder To Access
While he campaigned for the presidency, President-elect Donald Trump vowed to make sweeping changes to healthcare and reproductive rights in the United States: He not only promised to overturn Roe vs. Wade, but he also said he would repeal the Affordable Care Act, which currently provides women with free birth control. Now that Trump has snagged the presidency, women are warning that Trump could actually intrude on their reproductive rights, and they're advising others to get intrauterine devices before Trump heads to the White House. Some anti-abortion groups erroneously believe IUDs cause abortions, but will Trump actually ban IUDs due to his anti-abortion stance?
First of all, you can breathe a (small) sigh of relief: Despite his slightly skewed science of abortions, Trump hasn't said anything to suggest that he believes IUDs cause abortions, nor has he said he would ban IUDs. (Neither has his vice-presidential pick Mike Pence, according to the Daily Beast.) But women in the United States aren't necessarily worried that Trump would outright ban IUDs — instead, they're worried that he would make access to free birth control and abortions difficult, if not outright impossible.
One of Trump's promised first orders of business, according to NPR, is repealing and replacing the Affordable Care Act. In fact, that's something he's vowed to do within his first 100 days in office. Considering that the Affordable Care Act provides women with free birth control — including IUDs, which can cost up to $1,000 — repealing the ACA would harm countless women's access to birth control.
If you're thinking, "Huh. Trump could take away the birth control I can't afford on my own, but at least I could still count on a few no-cost or low-cost options at Planned Parenthood," think again. Less than two months ago, Trump committed to defunding Planned Parenthood for as long as the organization continues to provide women with abortions. Oh, and on the topic of abortions, Trump has promised that he'll repeal Roe vs. Wade and turn the Hyde Amendment into permanent law (limiting abortion funding), shrinking abortion access for women across the country.
So no, women aren't worried (at the moment, at least) that Trump will ban IUDs. But they reckon that getting one now, while the Affordable Care Act still covers the cost of birth control, will help them get through four years of reduced access to birth control and abortions. If you're interested, speak to your doctor about options — and then make sure you get things sorted before Inauguration Day. Bonus? They last over four years and have a 99 percent effectiveness rate.