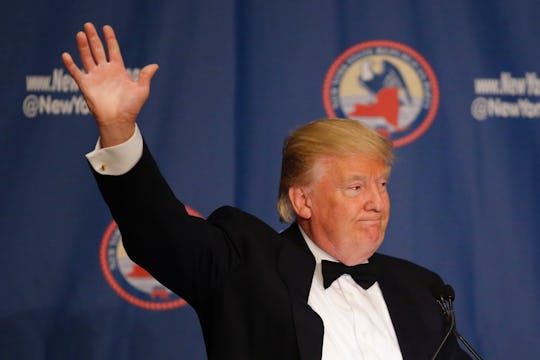 Eduardo Munoz Alvarez/Getty Images News/Getty Images
Will Donald Trump Choose John Kasich As His Running Mate? He's Already Weighing Options
As of Wednesday, real estate mogul Donald Trump is the likely the official Republican nominee for president. Barring an open convention, which everyone is still allowed to hope for, Trump will likely sail to the November general elections, given that Texas Sen. Ted Cruz dropped out of the race on Tuesday night, followed swiftly by Ohio Gov. John Kasich, who called it quits on Wednesday afternoon. Now the attention is on whomever Trump's Republican vice presidential nominee might be — and surprisingly, it's Kasich's name that's been bouncing around the rumor mill. But will Trump choose John Kasich as a running mate? Really, it's anyone's guess.
In an interview with CNN's Wolf Blitzer on Wednesday afternoon, Trump claimed it was the "first he was hearing" off Kasich dropping off of the ballot. The candidate told Blitzer, that he had "a very good relationship with John" and that the governor could be "very helpful" in Ohio, as it remains an important state to win in the November general election.
If Donald Trump indeed becomes the Republican presidential nominee this summer, his choice for running mate could make or break his campaign against the Democratic nominee. Trump is notoriously a difficult guy to get behind, with his derisive stances and polarizing commentary. Then again, despite his controversial policies, many erstwhile Republican candidates have drifted towards the hotelier as they themselves dropped out of the race, so traditional logic could be moot.
So it's possible that even a candidate like Kasich, whose very boring-ness made him the anti-Trump, could be convinced. The Donald mentioned in the same interview with Blitzer on CNN that his short list would also include former candidate Ben Carson or New Jersey governor Chris Christie.
As the primary process rolls along, Trump could very well continue to gather even more support from big names that might help convince previous rivals to consider a run on the Trump ticket. Kasich might not have the hutzpah that someone like Trump generally favors, but at least he's a steady pick who would bring more middle-ground Republicans while staying out of Trump's limelight.
It's not likely that there is enough mutual respect between Kasich and Trump though to make a vice presidency nod realistically happen. Yet, up until yesterday, the Republican National Committee was floating the idea that they would hold an open convention, almost hoping that someone like Kasich could take the lead, so at this point, it's safe to say that anything could happen.
If Republicans want to nominate Donald Trump as their presidential candidate, it might be a good idea for him to pick a running mate that can balance all the different aspects of the Republican party. Kasich could do that, but he doesn't seem like the kind of guy to go back on his word.
It's a long way until the convention. Don't take any bets yet.