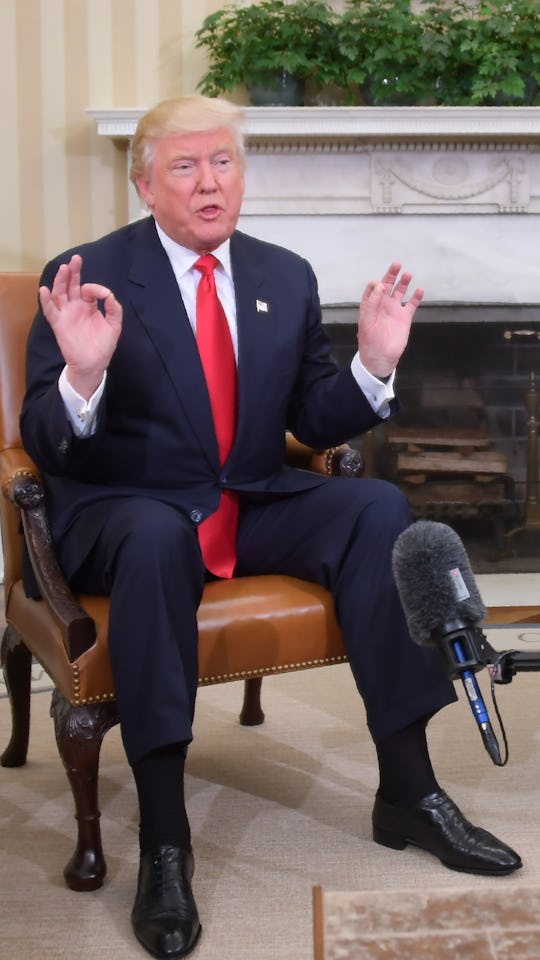 JIM WATSON/AFP/Getty Images
Will Donald Trump Live In The White House Full Time? He's Fairly Attached To New York
President-elect Donald Trump has already visited the White House to meet with President Obama and scope out his future digs, but rumor has it, he's not planning on spending all of his time there. According to The New York Times, Trump has reportedly spoken to advisers about his future living situation, and if he has his way, Trump would live in the White House part-time, spending the rest of his time in his Trump Tower penthouse in New York City. If he did split his time between Washington and New York, it would be a presidential first.
According to The New York Times, Trump's advisers reportedly said his desire to spend time in New York revealed his surprise at winning the election and his realization that his life was about to change massively. They reportedly said Trump may spend his weekdays in Washington, then spend his weekends at the Trump Tower in Manhattan, at his golf course in New Jersey, or at his Mar-a-Lago estate in Florida.
If Trump did split his time, it would mean extra work for those in charge of protecting the president-elect. According to The Telegraph, the Secret Service has already suggested that Trump move to the White House full-time after Inauguration Day, since protecting him in New York would present more challenges.
Another change Trump would like to make to the presidential day-to-day? According to The New York Times, advisors say he would like to continue holding rallies, just like the kind he held during his campaign. (Just a thought: maybe Trump will hold rallies instead of having State of the Union addresses or press conferences? After all, Trump doesn't seem to be a huge fan of the media, so maybe he could sidestep them and speak directly to the public.) And according to Yahoo! News, Trump even promised supporters last month that he'd continue his rallies if he won, telling supporters in Panama City, Florida, "You better make sure we win, or there will be no more Trump rallies."
"I think Trump has discovered that these rallies are tremendous opportunities for him to get his message out," Christopher Ruddy, chief executive of Newsmax Media, told The New York Times. "It's actually sort of old-fashioned, that you want to actually meet people and press the flesh with him."
Life after Inauguration Day is sure to be interesting: Americans may witness a Commander in Chief live in the White House only part-time and continue to hold rallies after being elected — two fairly unconventional approaches to the presidency.