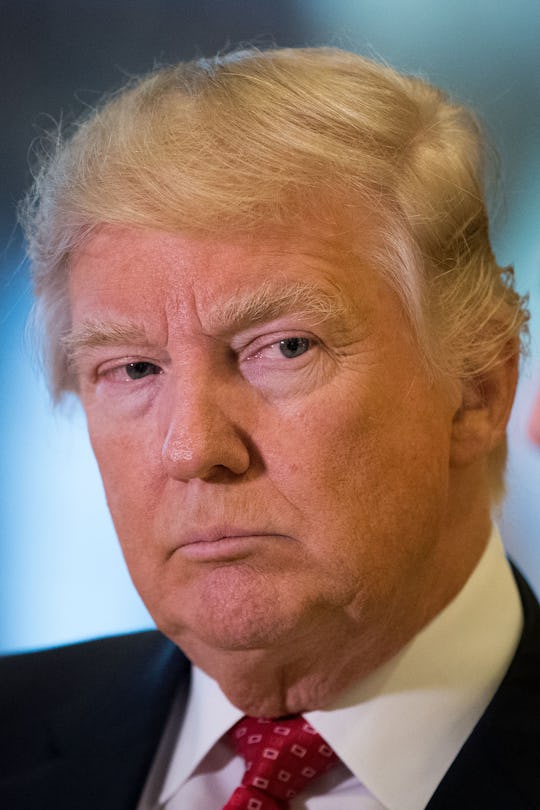 Drew Angerer/Getty Images News/Getty Images
Trump Has Been Critical Of Vaccines For Some Time
President-elect Donald Trump has been busy appointing and nominating people to various positions within his incoming administration, some of them more controversial than others. On Tuesday, Trump reportedly asked Robert Kennedy, an anti-vaccine advocate, to head up a special commission on vaccine safety and "scientific integrity," according to The Washington Post. The appointment begs the question: is Donald Trump going to make vaccines illegal? He has a history of being critical of the science behind them, so it's very possible he's considering rollbacks when it comes to child vaccinations.
Trump transition spokesperson Hope Hicks told Romper via an email statement that the president-elect "enjoyed" the conversation with Kennedy and "appreciates his thoughts and ideas." Hicks added that Trump is "exploring the possibility of forming a commission on Autism, which affects so many families; however no decisions have been made at this time." She said, "the President-elect looks forward to continuing the discussion about all aspects of Autism with many groups and individuals."
But on Tuesday, Trump offered Kennedy a chance to chair a commission on vaccines science, which he accepted. Robert Kennedy Jr., who is the son of Robert F. Kennedy, is a proponent of debunked science that links autism and MMR vaccines.
He said on Tuesday at Trump Tower, "President-elect Trump has some doubts about the current vaccine policies and he has questions about it. His opinion doesn't matter but the science does matter and we ought to be reading the science and we ought to be debating the science."
He added that both he and Trump are "pro-vaccine" but want to make sure they are as "safe as possible."
But vaccines are safe for children, although in 2005, Kennedy wrote an article about mercury levels in vaccines and lobbied Congress to allow parents to be exempt from vaccinating their children.
But current science says that vaccines are safe for children. A 2015 study conducted by the National Institute of Mental Health, National Institutes of Health, and the U.S. Department of Health and Human Services found that there is no link between the MMR vaccine and autism.
Yet fears of vaccines persist, mainly because of a debunked 1998 by former British doctor Andrew Wakefield that said there was a link between autism and MMR vaccines. Wakefield was stripped of his license in 2011 because of his research, which was deemed as "professional misconduct" by British health authorities. Wakefield now resides in Texas. Despite his lack of credentials, Trump reportedly met with the infamous doctor during the 2016 campaign to discuss vaccine policy.
Trump tweeted in 2014 that he personally knew a child who was diagnosed as autistic after receiving an MMR vaccine. "Healthy young child goes to doctor, gets pumped with massive shot of many vaccines, doesn't feel good and changes - AUTISM. Many such cases!," he wrote.
But there are not "many such cases." In fact, according to the Centers for Disease Control, about one in a hundred children have adverse reactions to vaccines, and autism is not among them. Adverse effects like an achey arm or a headache are common. More serious are things like pneumonia or stomach inflammation. But not autism, since it's a genetic disorder. We don't know what causes it, but vaccines aren't the culprit.
Despite that science, Trump spoke of the dangers vaccines on the campaign trail in 2015 and 2016, reiterating his anecdotal evidence that vaccines cause autism.
In reality, the anti-vaccine movement, and Trump's casual endorsements of it, has hurt children. The CDC reported that measles cases have been on the rise in recent years, due in large part to vaccine fears stoked by faulty science like Wakefield's.
Trump and Kennedy's position that they want to re-examine the science could very well be a waste of time, since they are basing their fears on Wakefield's debunked report and refuse to acknowledge studies done not just in the United States, but also in Europe, where vaccines have also been deemed safe for children. In different words, the science behind the anti-vaccine movement has already been examined.
Really, Kennedy got to the heart of the matter in his own statement to reporters on Tuesday when he said that Trump's opinion "doesn't matter." The science does. And the science says that parents should vaccinate their children, for their own health, and the health of other children and vulnerable people they come into contact with.