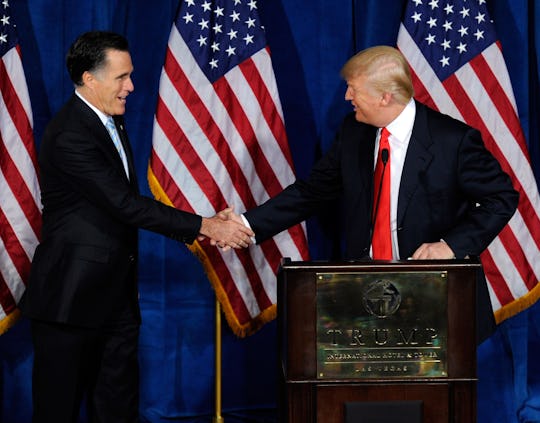 Ethan Miller/Getty Images News/Getty Images
Will Donald Trump Offer Mitt Romney A Cabinet Position? The Two Will Meet This Weekend
In the process of outfitting his White House staff, President-elect Donald Trump is repeatedly calling upon established GOP members, proposing that they join his team. Among those under consideration? 2012 GOP presidential nominee Mitt Romney, CNN reports. Will Donald Trump offer Mitt Romney a Cabinet position? Though no position in particular has yet been mentioned, Trump will meet with Romney to deliberate "governing moving forward" as well as a potential role for Romney in said governing.
Romney's just the latest in a series of politicians who, despite having been blatantly insulted by the president-elect in the past, are now considering working with him. This past February, Trump tweeted that Romney "was one of the dumbest and worst candidates in the history of Republican politics." Trading insults, Romney deemed Trump unfit to serve as president, saying "Mr. Trump is directing our anger for less than noble purposes" and noting, "This is the very brand of anger that has led other nations into the abyss," this past March. In June, Trump professed "the guy's a stone cold loser, a choker," to audiences at a Tampa, Florida rally.
Upon Trump's winning the presidency, the former Massachusetts governor changed his tune, tweeting: "Best wishes for our duly elected president: May his victory speech be his guide and preserving the Republic his aim." Romney has yet to speak out on whether he'd be interested in a spot in the Trump administration, and representatives for the former governor did not immediately return Romper's request for comment.
Thus far, Trump has selected RNC chair Reince Priebus and Steve Bannon, executive chair of Brietbart News, as members of his Cabinet. Priebus will serve as chief of staff and Bannon as senior counselor and chief strategist. Bannon's appointment has been celebrated by white nationalists and alt-right conservatives, but has been opposed and protested by civilians and politicians alike. House Democrats have opposed Bannon, too, with 169 of them penning a letter dubbing Bannon "a purveyor of anti-Semitism, misogyny and racism," Politico reported.
Though Romney didn't endorse Trump in the presidential race, his perceived change-of-heart isn't all that surprising. Texas Sen. Ted Cruz, who had a terribly contentious relationship with Trump throughout the election cycle and refused to endorse Trump at the Republican National Convention, altered his position in September, agreeing to vote for his party's candidate. Now, Cruz is reportedly in consideration for to be Trump's U.S. attorney general — a trajectory that Romney may well follow.
Trump campaign manager Kellyanne Conway has asserted that the president-elect's Cabinet picks remains right on schedule; Whereas it's customary for some staff selections to be announced right after election day, "Cabinet secretaries tend to be announced later in November or in December," CBS News reminds. Trump and Romney's meeting serves as a shaky step towards solidifying the Trump administration before the president-elect's nomination in January.