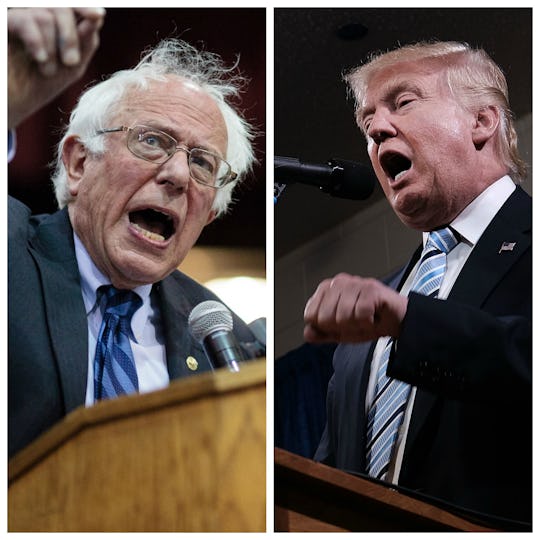 ROB KERR/AFP/Getty Images, Spencer Platt/Getty Images
Will Donald Trump Really Debate Bernie Sanders? The Internet Sure Hopes So
It's the latest strange twist in the unpredictable field that is the 2016 presidential race. The presumptive Republican nominee and the second place Democratic candidate have agreed to an unprecedented primary-season showdown. With the hashtag #BernieTrumpDebate catching fire on Twitter, many are left wondering if we are really going to see Donald Trump debate Bernie Sanders before the California primary.
Well, according to Danny Freeman at NBC News, Vermont Sen. Sanders and Trump "independently agreed Wednesday night to debate each other." So it seems like we're good to go for a Bernie/Trump face-off sometime between now and June 7 — the date of the California primary.
The entire scheme started as a late-night joke — as all good political events do. Business mogul and presidential nominee Trump appeared on Late Night with Jimmy Kimmel on Wednesday where he talked about the Democratic primary. He admitted to enjoying the struggle between Democratic frontrunner Hillary Clinton and protest candidate Sanders.
"It's getting nasty," he told Kimmel. "I had no idea it was going to be so nasty." Kimmel delivered a perfect retort, saying "And you hate that. You don't like that kind of thing." Which, if anyone looked at Trump's record of insults and attacks during the GOP primaries, would know isn't true.
Trump claimed that while he thinks he would be able to easily beat the Vermont senator in a general election match-up, he likes that "when [Sanders] loses… the system is rigged against him."
"Just like it was rigged against me," Trump asserted. "The system is rigged."
Kimmel, under the guise of passing on an invitation from the senator himself, asked Trump if he would debate Sanders before the party officially selects its nominee at the Democratic National Convention in the end of July. The reality star and real estate exec seemed to like the idea. "If [Sanders] paid a sum toward charity," Trump said, "I would love to do that."
"I think we should take that money [from the debate] and give it to some worthy charity," Trump continued.
Later at a campaign rally in North Dakota, Trump upped the ante saying Sanders would need to raise $10 million for charity before the Apprentice star would be willing to face off against him in the debate.
Early Thursday morning, Sanders responded to Trump's proposal on Twitter. "Game on," the 74-year-old wrote. "I look forward to debating Donald Trump before the June 7 primary.
This quick exchange peaked the internet's interest and soon "#BernieTrumpDebate" was trending. Users were going all in on their thoughts about a possible Trump/Sanders showdown.
Political pundits are foaming at the mouth over a possible clash of the titans. RNC strategist Sean Spicer told CNN that he thinks the debate "would be a massive contrast in the direction this country could choose." Unfortunately, despite public interest, there have been conflicting reports about how serious Trump was about his suggestion.
"Multiple sources tell @CBSnews that Trump was kidding about debating Sanders & it will never happen," CBS political correspondent Sopan Deb tweeted Thursday. However, later in the day, Deb posted a transcript of a Trump press conference where Trump was quoted as saying, "Well I'd love to debate Bernie. He's a dream."
Pressed further, the presidential candidate rehashed what he had laid out on Kimmel the previous night. "Well… I said last night on Jimmy's show… I'd love to debate him but I want a lot of money put up for charity." Trump suggested the money would be raised for women's health issues and estimated the pair could garner $10 to $15 million for charity.
"I understand the television business very well," he continued. "I think we'd get high ratings. It should be in a big arena somewhere and we could have a lot of fun with it." After laying out his plans, he capitulated somewhat, acknowledging that the debate would be politically fruitless:
The problem is he's going to lose. Because honestly, his system is rigged just like our system is rigged. […] So the problem, biggest problem is that Bernie's not going to win but I would debate him anyway if they put money up for charity.
He left the issue open telling reporters, "we'll see," while assuring his campaign had received "a couple of calls from the networks already" about the possible Trump/Sanders debate.
Trump told Kimmel that a debate between him and Sanders "would have such high ratings" — something that seems to matter a great deal to the GOP nominee considering he has mentioned viewership before and after almost every Republican primary debate so far. No word on whether Sanders is as reliant on ratings as his hypothetical opponent.
An interparty debate prior to the Democratic primary being settled would certainly be an unheard of and curious spectacle. Sanders is most likely hoping to benefit from the added press leading up to the crucial California primary. It could also isolate Clinton, leaving her out of political headlines while her two rivals soak up all the media attention.
While their policy positions may seem polar opposite, Sanders and Trump are quite similar. Both are populist, "outsider" candidates — Trump has never held political office and Sanders is new to the Democratic party having served in the Senate as an Independent for the past few decades. Both have a seeming cult-like and vocal group of supporters. And violent protests have been carried out by both candidates' followers.
A debate between Trump and Sanders would give the Republican presidential candidate a chance to sell himself and his campaign to Sanders's supporters, who he hopes will turn to him instead of Clinton after this knock-down, drag-out primary concludes.
If Donald Trump and Bernie Sanders do face off in a debate, it would certainly be must-see television. Two New Yorkers who couldn't be more different (besides their crazy hairdos). Sanders, a life-long civil rights crusader and devoted socialist, versus Trump, an brash, multi-billionaire capitalist with a 15-karat golden comb for every day of the week (presumably). Hmm... sound familiar?
There isn't much time between now and the California primary on June 7, so if the two political heavy-hitters are planning on debating, it needs to happen soon. But it seems as if the world is ready for it. Ideological opposites clashing on live TV? Seriously, grab some popcorn.