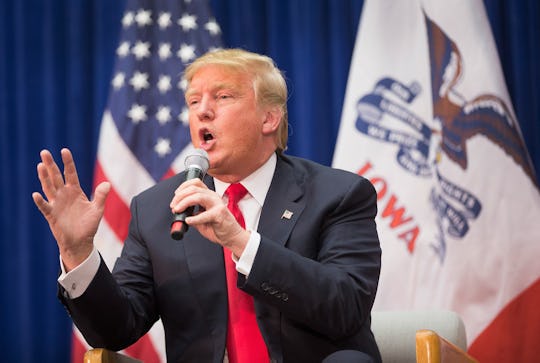 Will Donald Trump's Debate Boycott Help Or Hurt His Campaign? Nothing Brings Him Down
Late Tuesday evening, Republican presidential front-runner Donald Trump announced he would not attend or participate in Thursday's scheduled debate. The reason: Fox News anchor — and one of the debate moderator's — Megyn Kelly, someone with whom Trump has had an on-again/off-again feud. So how will Donald Trump's decision affect his Presidential aspirations? Will Trump's debate boycott hurt his campaign? It's unlikely (and frustrating).
Initial reports indicated Trump's decision may actually be for the best, according to the Washington Post:
So far, Trump's untraditional moves have only expanded his support.
However, the Post also pointed out that his boycott will leave him open to criticism and tough talk, from fellow Republicans and his Democratic opponents — especially since this is the last GOP debate before the Iowa caucuses. But Trump surely has a good reason, right? (Right?!) Well, according to the Post, he definitely has a reason:
Megyn Kelly's really biased against me — she knows that, I know that, everybody knows that.
Does this mean Trump should have pulled out of the debate? Maybe, maybe not. (I'll let you decide.) But according to an unnamed network spokesperson, Trump's decision is a problem — especially for someone hoping to land in the White House:
We learned from a secret back channel that the Ayatollah and Putin both intend to treat Donald Trump unfairly when they meet with him if he becomes president...[a] nefarious source tells us that Trump has his own secret plan to replace the Cabinet with his Twitter followers to see if he should even go to those meetings.
And FOX isn't the only one chiming in on this topic (i.e. Twitter is on fire):
As for Kelly, the "catalyst" of this fight, FOX also spoke out about her. In a statement issued by FOX News's Chairman and CEO Roger Ailes, Kelly was described as an "excellent journalist:"
Megyn Kelly is an excellent journalist and the entire network stands behind her. She will absolutely be on the stage Thursday night.
FOX also said that Trump cannot "dictate the moderators or the questions," something no political candidate – in either party — has the power to do:
As many of our viewers know, Fox News is hosting a sanctioned debate in Des Moines, Iowa on Thursday night...Donald Trump is refusing to debate seven of his fellow presidential candidates on stage that night, which is near unprecedented...but it should be clear to the American public by now that this is rooted in one thing – Megyn Kelly, whom he has viciously attacked since August and has now spent four days demanding be removed from the debate stage. Capitulating to politicians' ultimatums about a debate moderator violates all journalistic standards, as do threats, including the one leveled by Trump's campaign manager Corey Lewandowski toward Megyn Kelly. In a call on Saturday with a Fox News executive, Lewandowski stated that Megyn had a 'rough couple of days after that last debate' and he 'would hate to have her go through that again.' Lewandowski was warned not to level any more threats, but he continued to do so. We can't give in to terrorizations toward any of our employees. Trump is still welcome at Thursday night's debate and will be treated fairly, just as he has been during his 132 appearances on Fox News & Fox Business, but he can't dictate the moderators or the questions.
That said, how this really affects Trump, the debate, and the other candidates remains to be seen.
Images: Scott Olsen/Getty Images News