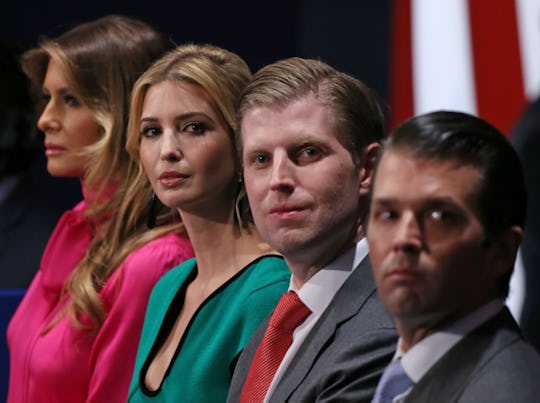 TASOS KATOPODIS/AFP/Getty Images
Will Donald Trump's Older Children Get To Live In The White House? It Would Be Problematic
After the election, President-elect Donald Trump was invited to the White House by President Obama to start to get familiar with his new digs. One of the most notable things about Trump's visit, besides the tense handshake between Trump and Obama, was the presence of Trump's son-in-law Jared Kushner, who has emerged as a vital counselor for Trump. It begs the question: Will Donald Trump's older children get to live in the White House? Their presence at 1600 Pennsylvania Avenue could create problems for a Trump presidency.
First off, it's unclear how much time Trump actually plans to spend in the White House himself. Trump told pool reporters, according to Politico, when asked if he would leave Trump Tower for Washington D.C. he replied, "Yes, White House." But, he added that his wife Melania and youngest son Barron would stay in New York to finish out the school year, Politico reported.
According to a report from the New York Times, Trump is most comfortable within the confines of his mirrored golden Tower in Manhattan and he plans to spend as much time there, and at his other estates, as possible on weekends and off days. But, the Times added, his advisers hope as he becomes more comfortable in his new role he'll feel more comfortable in the White House.
The problem with Trump's plan is that his comfort is coming at a steep price for taxpayers. The White House is fortified and set up for the task of protecting the First Family. A glass tower right in the middle of New York City is a far more complicated piece of real estate for the Secret Service to protect, according to the New York Daily News. The City of New York will pay $1 million per day to secure Trump tower, according to CNN. To keep the Trump's safe in New York, the Secret Service is considering renting out two floors in Trump Tower to set up a command post, which would mean taxpayers would be paying Trump about $3 million per year in rent to his company for his own protection, according to CNN. All while the White House sits empty, which taxpayers also pay for, to the tune of more than $1 billion annually, according to conservative news publication the Daily Caller.
So why wouldn't Trump's older children, Ivanka, Donald Jr., Eric, and maybe even Tiffany, set up residence in the East Wing? First, the White House might be a step down in terms of the kind of luxury the Trump's are accustomed to. Especially when the Trump family has a big, fancy hotel just blocks away from the White House.
There's also a perception problem should Trump's children, whom Trump has said would run his business while he's president, spend time a lot of at the White House, beyond the occasional visit. Critics are already concerned about the family using the presidency for all sorts of self-dealing, as The Washington Post and many other outlets have reported. Trump tweeted on Wednesday he plans to draft legal documents to hand the business over to his kids, but critics insist that's not nearly enough distance between Trump and the business to ensure he won't be tempted to make decisions as president that would enrich his own family, according to the Washington Post.
And Jared Kusher, Trump's right-hand who happens to be married to Ivanka, who will be running the Trump business, is already speaking with lawyers about how to skirt federal anti-nepotism laws to take a job in the White House, according to the New York Times. Romper reached out to the Trump press office for comment about Kusher's White House role and his alleged meeting with lawyers, but has not yet received a response.
A prominent presence of Trump's other adult children around the White House might just intensify speculation of corruption. It's hard to believe staying in the White House would be worth jeopardizing the entire Trump empire.
So while, technically, the Trump children could be allowed to spend time in the White House, it's more likely they'll keep to their far more comfortable, and less public, penthouses, estates, and palaces.